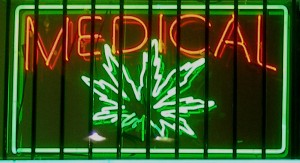 TUCSON, Ariz., Aug. 7, 2013 /PRNewswire/ — The Downtown Dispensary, a Tucson dispensary located at the intersection of 6th Avenue and 6thStreet, has been granted approval to operate by the Arizona Department of Health Services and will begin serving patients on August 20th.  The newest dispensary in Southern Arizona will bring Tucson the ultimate medical marijuana retail experience and the highest quality customer service.
The Downtown Dispensary will be open everyday from 10 AM to 7 PM.  The dispensary provides an environment conducive to learning about the products and patients will be informed about the different strains of medical marijuana for treating their conditions.  Similar to prescription pharmaceuticals and over the counter medications, there are several different types of medical marijuana.  Patients seeking this complementary medicine will also have the option to receive educational materials containing medical uses, side effects, and contraindications.  The knowledgeable and friendly staff at The Downtown Dispensary will drive the patient experience.
The Downtown Dispensary plans on being an integral part of the Tucson community, providing safe and affordable access to exceptionally high-quality medicine.  The dispensary will also have digital menus to showcase strain-specific information and simplify the selection process for patients.
Every year, The Downtown Dispensary will commit a percentage of its proceeds to patient programs as well as other non-profit and charitable organizations that educate patients about their rights.  The dispensary will look for opportunities to work with the city on improving patient access and create a volunteer program that will help qualified patients.  The directors of the dispensary have distinct backgrounds including commercial crop production, healthcare, fitness, and health information systems.
Don't have a medical marijuana card?
The following medical conditions qualify a patient for medical marijuana in Arizona:
Cancer
Glaucoma
Human Immunodeficiency Virus (HIV)
Acquired Immune Deficiency Syndrome (AIDS)
Hepatitis C
Amyotrophic Lateral Sclerosis (ALS)
Crohn's disease
Agitation of Alzheimer's disease
A chronic or debilitating disease or medical condition or the treatment for a chronic or debilitating disease or medical condition that causes:

Cachexia or wasting syndrome;
Severe and chronic pain;
Severe nausea;
Seizures, including those characteristic of epilepsy;
Severe or persistent muscle spasms, including those characteristic of multiple sclerosis
Additional information for prospective patients
The Downtown Dispensary address:
221 E. 6th St., Suite 105
Tucson, AZ 85705
Opening date:  August 20, 2013
Sign up
Patients who would like to visit The Downtown Dispensary should sign up for updates at the dispensary website:
http://www.thedowntowndispensary.com
Read more news from The Downtown Dispensary.
SOURCE  The Downtown Dispensary