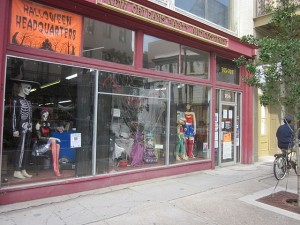 NEW ORLEANS, Aug. 21, 2013 /PRNewswire/ — New Orleans has earned a reputation as the premier destination for Halloween. This year will be no exception as the city prepares to celebrate the 30thanniversary of "Halloween New Orleans (HNO XXX)," October 24 – 27. The weekend-long extravaganza, benefitting Project Lazarus, is expected to bring in more than 5,000 visitors from across the country and will feature a premier performance by acclaimed New York City DJ, Abel.
"I've performed at some of the top parties around the world," said DJ Abel. "Halloween New Orleans is an event that's been on my radar for quite some time and I'm thrilled that the stars aligned to allow me to celebrate in the great city of New Orleans – a city known for doing it best."
Since its inception in 1984, Halloween New Orleans has raised more than $4.6 million for Project Lazarus and has become one of the largest HIV/AIDS fundraisers in the Gulf South. The event was created to celebrate the gay community in New Orleans, to share love, a sense of family, a unique culture and a love of showmanship, while supporting Project Lazarus in its fight against HIV/AIDS.
"Our goal is to empower those living with AIDS and put them back into the community as responsible individuals," said Kim Moss, executive director of Project Lazarus. "We wouldn't be able to accomplish that without the funds raised by Halloween New Orleans. It has become the ultimate party for a cause."
This year's theme, "Chapel of Love," is a nod to the recent Supreme Court ruling, upholding gay marriage in those states that recognize it. The event festivities will be playfully themed around weddings.
"We've had a history of exciting themes over the past 29 years," said Arthur Roger, co-chair of the Saturday event. "The plans to commemorate the 30th anniversary are certainly fitting for such a milestone."
As part of the 30th celebration, Stonewall National Museum and Archives will induct event paraphernalia, including invitations, shirts, photos and awards, into their permanent display.
HNO XXX events:
A limited number of early bird passes are available starting at $125. Single day passes are available beginning Sept. 3. Visit www.halloweenneworleans.com for the latest information or to purchase tickets.
###
The New Orleans Tourism Marketing Corporation will award a trip for two to New Orleans to attend the event. To enter, go to: http://www.neworleansonline.com/promos/2013/halloween/index.php.
SOURCE  Halloween New Orleans