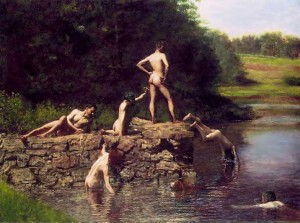 There was a time when skinny-dipping among males was a common practice in America. In the 19th and early 20th centuries, men and boys would think nothing of swimming naked, whether in rural lakes or rivers or in male-only institutions like the YMCA. Even President John Quincy Adams, no libertine, was known for taking a nude dip on the Potomac River during his term of office. Unfortunately, this idyll ended after the mid-20th century, when the rise of co-ed beaches and swimming pools led to new restrictions on public nudity. Furthermore, according to naturist author R. E. Smith, "men and boys, who were always more fond of nudity outdoors than women, developed low self esteem about their bodies. This led YMCAs and colleges to redesign pools and gyms so that it was impossible to be nude without being seen by a lot of onlookers. Americans nowadays, even daring young people and even gay people, are sorely afraid of nudity." Today, nude swimming and bathing in the USA is limited for the most part to private pools, nude beaches, and a small number of out of the way places.
If anyone knows what it is like to skinny dip, it is naturist author R. E. Smith: "No aspect of our lives involves more ambiguity than our own nakedness," he notes. Still, "with all of its ambiguity, being naked outdoors is a memorable experience. Few men can resist referring fleetingly to a time in their youths when they went 'skinny-dipping.'" However, "for most of us, experiencing nakedness in nature must remain a fantasy. This book is about those fantasies. It has always been the writers and artists among us who have license to express fantasies. This is true on the delicate and embarrassing, yet enticing subject of nudity and nature."
Swimming in the buff is celebrated, and sometimes attacked, in R. E. Smith's Erotic Tales of Skinny Dipping: Great Moments in Art and Literature. In Erotic Tales of Skinny Dipping Smith collected some of the best writing about sensual and playful nudity in a watery setting, together with art works depicting the same. And what a collection! Here you will find writings by Walt Whitman ("America's poet laureate of skinny-dipping"), Lawrence Durrell, E.M. Forster, Alan Holinghurst, Vladimir Nabokov and Edmund White, just to name a few. There is also art by Thomas Eakins – his 1883 painting "The Swimming Hole" rightly adorns the cover of this book – Paul Cezanne, Paul Gauguin, John Singer Sergeant and Andrew Wyeth, among others. "One of my purposes is to show a unifying theme in text and pictures. The theme here is what Walt Whitman called 'nakedness in Nature.'"
Smith's writers and artists explore various aspects of the skinny-dipping experience, including the rite of passage, fathers and sons, solitude, spirituality, nature and, of course, sex. Most would agree with Edgar Rice Burroughs's Tarzan of the Apes, who thought clothes "were a hindrance and a nuisance," or with Mark Twain's Huckleberry Finn, who "was always naked, day and night, whenever the mosquitoes would let us — the new clothes Buck's folks made for me was too good to be comfortable, and besides I didn't go much on clothes, no how." "I miss skinny-dipping," Dalton Roberts wrote. "Didn't know what a bathing suit was until I was almost grown." For the most part, skinny-dipping was a male experience: As Pat Williams wrote, recalling an "old swimming hole" of his childhood, "only men and boys enjoyed the privilege of swimming in the clean, cold water of this pond fed by many nearby springs." But there are a few women represented in this book, including Anne Dillard, Iris Murdoch, and Dolly Parton.
Not surprisingly, some of the best quotes in Erotic Tales of Skinny Dipping come from R.E. Smith himself: "I especially enjoy taking my walks with nothing at all, absolutely nothing. No sunglasses, no hat, no tote bags, no towels, especially no footwear. I want to feel the earth beneath me and know for sure that I am naked," he wrote. "Today naturists often speak about importing island values into their own lives. Island communities celebrate the human body and appreciate the natural environment, have an openness to other people, tolerate eccentricities, lose their inhibitions, shed the complexities of life on the mainland, and strip life to its essentials." As a nudist and a naturist who enjoys the freedom of outdoor nudity, I agree with Smith's views, as well as with those of our naturist forefathers Thomas Eakins and Walt Whitman: "Never before did I get so close to Nature; never before did she come so close to me," Whitman wrote, in Specimen Days. "Nature was naked, and I was also."
Skinny-dipping among the greats: A Review of Erotic Tales of Skinny Dipping: Great Moments in Art and Literature by R. E. Smith; Naked in Nature, PO Box 28577, Providence, RI 02908; www.nakedinnature.net; eBook and Kindle format $9.95; full-color hard copy $32.50.
Jesse's Journal
by Jesse Monteagudo