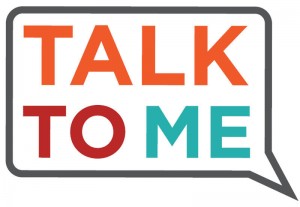 Today, World Suicide Prevention Day, an exciting suicide prevention PSA launches, featuring over a dozen influencers across traditional and social media. The PSA was created to encourage fans to join The Trevor Project's "Talk to Me" campaign and help prevent suicide. Organized by Emmy-nominated online live news show What's Trending , the video showcases celebrities taking the "Talk to Me" pledge. Participants include:  Margaret Cho , Brendan Ayanbedejo, Chris Kluwe, Kat Graham, Davey Wavey, Phil Defranco, Issa Rae, Lucas Cruikshank , Michael Buckley , Olga Kay , Timothy Delaghetto, Hannah Hart , Chester See and more.
Watch the video here: http://www.youtube.com/watch?v=S2qI8Chj-qo
Talk to Me raises awareness to prevent suicide among youth, especially those who are lesbian, gay, bisexual, transgender and questioning (LGBTQ). This campaign for conversation is rooted in research that indicates improving both help-seeking behaviors and access to care can have a dramatic effect on suicide prevention. i To learn more about Talk to Me and to get involved, visit TrevorTalkToMe.org and spread the word using #TalktoMe.
"It has been an honor to support the life-saving work The Trevor Project is doing at What's Trending for the last three years, and we are really proud to have been able to help bring together the biggest stars online to take the pledge for the Talk to Me campaign," said Shira Lazar, host of What's Trending.  "It is a real testament to the value of The Trevor Project that so many of this generation's brightest YouTube stars are a part of such a great cause."
"World Suicide Prevention Day provides an incredible opportunity for many more people to learn how just 3 simple words – Talk to Me – can help save a life. The Trevor Project thanks these fantastic celebrity supporters and our friends at What's Trending for helping get the message out,"  said Abbe Land, Executive Director & CEO of The Trevor Project.
Talk to Me, found at TrevorTalkToMe.org, engages youth and adults in a multi-faceted public awareness campaign to prevent suicide. Elements of the campaign include:
Pledge to be a person that anyone can talk to when they need support;
Take Action by asking that members of Congress fund inclusive suicide prevention training and programs by re-authorizing the Garrett Lee Smith Memorial Act (H.R. 2734);
Train a Trevor Lifeguard by registering for a free Trevor Lifeguard Workshop, a best practice for training suicide prevention for grades 6-12;
Share Talk to Me badges, banners and updates on social media to show support of suicide prevention.
ABOUT THE TREVOR PROJECT Founded in 1998 by the creators of the Academy Award®-winning short film TREVOR, The Trevor Project is the leading national organization providing crisis intervention and suicide prevention services to lesbian, gay, bisexual, transgender and questioning (LGBTQ) young people ages 13-24. Every day, The Trevor Project saves young lives through its accredited, free and confidential phone, instant message and text messaging crisis intervention services. A leader and innovator in suicide prevention, The Trevor Project offers the largest safe social networking community for LGBTQ youth, best practice suicide prevention educational trainings, resources for youth and adults, and advocacy initiatives. Learn more at TheTrevorProject.org.
ABOUT WHAT'S TRENDING What's Trending is the Emmy-nominated, real-time pulse of the YouTube universe, highlighting the hottest videos and personalities that make for the most watched content on the platform. A 24/7 news hub covering and curating the most shared videos on YouTube across the social web, the channel features guests and performances from celebrities, media influencers and YouTube stars every day. "What's Trending" was founded by Shira Lazar and Damon Berger in May 2011. Stay connected and join the conversation by following the show at WhatsTrending.com and twitter @whatstrending.
i SOURCES: Borowsky, I. W., Ireland, M., Resnick, M. (2001). Adolescent Suicide Attempts: Risks and Protectors. Pediatrics. doi: 10.1542/peds.107.3.485; Eisenberg, M., Resnick, M. (2006). Suicidality among Gay, Lesbian and Bisexual Youth: The Role of Protective Factors. Journal of Adolescent Health. 39: 662-668. Doi: 10.1016/j.jadohealth.2006.04.024; Kidd, S., Henrich, C. C., Brookmeyer, K. A., Davidson, L., King, R. A. and Shahar, G. (2006), The Social Context of Adolescent Suicide Attempts: Interactive Effects of Parent, Peer, and School Social Relations. Suicide and Life-Threat Behavi, 36: 386–395. doi: 10.1521/suli.2006.36.4.386
SOURCE  The Trevor Project