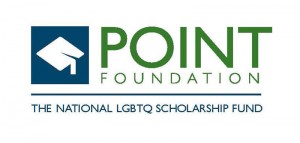 Lesbian, gay, bisexual, transgender and queer (LGBTQ) students seeking financial help for their undergraduate or graduate school education can take action by applying for a Point Foundation Scholarship. Point is the nation's largest scholarship-granting organization for LGBTQ students of merit.
While most students today face daunting monetary challenges as they weigh their educational options, nearly one-third of LGBTQ students drop out of high school. This figure is three times the national average according to a Lambda Legal report.
To serve this population, Point Foundation has invested more than $15 million in education and support since 2001. Students who will be enrolled in undergraduate or graduate programs for the 2014-2015 academic year are eligible to apply for Point Foundation's multiyear scholarship. Point's application process opens online November 1, 2013. 
"Attaining a college education remains a worthy goal and sound investment toward a better future for millions of Americans, many of whom – like the 38 percent of Point's 2013 scholar class – will be the first-generation of their family to go to college," said Jorge Valencia , Executive Director and Chief Executive Officer of Point Foundation. "Year after year we receive thousands of applications for Point Scholarships from deserving LGBTQ students who need support to improve their lives by getting a higher education degree."
Applicants may submit Part I of the application until 11:59 p.m. PST on January 21, 2014.  Point will then invite qualified applicants to submit Part II of the application, which will open November 2, 2013and remain so until 11:59 p.m. PST, February 3, 2014.
Applications are only accepted online at www.pointfoundation.org/apply .
People may nominate a student online, or share an informational flyer (PDF).
Point's rigorous selection process for awarding scholarships requires that candidates demonstrate academic excellence, leadership skills, community involvement and financial need. Attention is also paid to students who have lost the financial and social support of their families and/or communities as a result of revealing their sexual orientation, gender identity or gender expression.
Point Scholars agree to maintain a high level of academic performance and to give back to the LGBTQ community through the completion of an individual community service project each year. Each scholar is paired with a mentor and participates in leadership development training with fellow Point Scholars, including an annual Leadership Conference. After graduating, Point Scholars become part of Point's growing alumni network, connecting them with caring individuals and professional contacts throughout the nation.
Point announced the selection of 26 new scholarship recipients in June 2013, bringing the total number of students currently receiving financial assistance and programmatic support to 78. The 2014 Point Scholar Class will be announced June 2014.
About Point Foundation:  Point Foundation empowers promising LGBTQ students to achieve their full academic and leadership potential – despite the obstacles often put before them – to make a significant impact on society.
SOURCE  Point Foundation