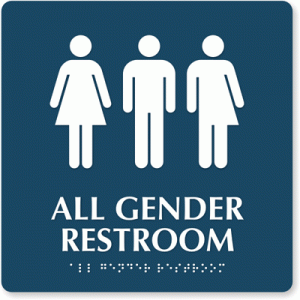 On October 28, the city of Philadelphia passed an LGBTQ-inclusive reformstating that all city-owned buildings must be equipped with gender-neutral restroom signs. It's no surprise that Denver has begun to follow suit, starting with their youth. Using designated restrooms can be a real challenge for those who don't identify with either "men" or "women" restroom signs. MyDoorSign is partnering with organizations in Colorado to resolve this issue through the creation, production, and distribution of a line of all-gender restroom signs.
Leonardo Kattari, Training and Education Manager at Colorado Youth Matter said, "As an organization that values inclusion and nondiscrimination, it's important for us to take steps to ensure our office space is welcoming, safe and supportive of all our staff, youth council members, board members, volunteers and community partners. [A gender-neutral door sign is] one easy way we address transphobia."
The signs have been adopted by Colorado Youth Matter, Compassion Road Academy, and New York's The Ali Forney Center: Housing for Homeless LGBT Youth.
Kelsey Hopson, Clinical Director at Compassion Road Academy in Denver, said, "Everyone deserves a safe place to take care of their basic human needs without being challenged. Transgender people experience preventable medical issues at a greatly increased rate due to the anxiety around not being able to safely access the correct restroom in public."
"We aim to include all gender identities while maintaining the professionalism surrounding traditional restroom signs. Combining the universal men's and women's pictographs is a natural progression," said Alex Roitman, Outreach Manager at MyDoorSign, "We focused on Colorado first because many of our employees have a connection there, and we've seen support from universities and public schools."
MyDoorSign is currently donating these signs to public buildings in need. If your public building is in need of a gender-neutral restroom sign, feel free to contact Alex Roitman at alex@smartsign.com or 718-797-1900 x 112.
Related Links: Signs are available here: http://www.mydoorsign.com/transgender-signs Why Restroom Signs Matter by Colorado You Matter http://www.coloradoyouthmatter.org/publications/blog/item/why-restroom-signs-matter
About MyDoorSign
MyDoorSign is a Brooklyn based door signage company. Their mission is to provide the highest quality door, restroom, office, and braille signs for the best price along with unmatched customer service. The vast inventory includes signs for all environments and indoor situations. The store also features customizable templates to create personalized messages for any purpose. MyDoorSign is part of the SmartSign family.
SOURCE  MyDoorSign