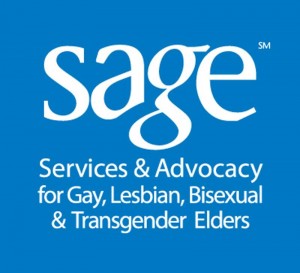 SAGEWorks is a national work readiness program for lesbian, gay, bisexual and transgender mature workers, ages forty and older, who need or want to return to the work place. The mission of SAGEWorks is "to improve the capacity of LGBT older adults to remain productive, vital and contributing members of the nation's work force." Now in its fourth year, SAGEWorks already has programs in Chicago, New York City, Denver, Philadelphia, and Palm Springs. Now, thanks to a $300,000 grant from the Walmart Foundation, SAGEWorks has come to South Florida, as a program managed and administrated by The Pride Center in conjunction with SAGE USA, SAGE of South Florida, AARP and The Walmart Foundation.
According to Hilary Meyer, SAGE Director of National Programs, "SAGE was first introduced to the Walmart Foundation several years ago, when we joined a number of other national diverse elder organizations in a panel presentation to Walmart managers about diversity an aging issues. The panel was organized by AARP. As a result of our participation in that panel, we learned about the Walmart Foundation and its interest in funding programs that support older workers who need help maintaining and growing their job skills. SAGE went through Walmart Foundation's application process, and was awarded a grant for SAGEWorks."
"SAGEWorks is designed to help LGBT workers age forty and up maintain and grow their job skills so that they can remain productively employed as long as they need to." Mayer says. "The SAGEWorks program is critically important because financial security is a central concern for LGBT older people, who are more likely to live in poverty. For LGBT people over forty, job security is complicated by the intersections of LGBT discrimination, the lack of legal protections in the workplace, and ageism," she adds. "To help LGBT older adults stay competitive and fulfilled in today's job market, SAGEWorks provides hands-on workshops on topics such as resume building and interviewing techniques; technology training; and personal coaching. The program also provides targeted job listings, networking opportunities, and connections to regional employers and industries."
In South Florida, SAGEWorks is managed by Bruce Williams, The Pride Center's Senior Services Coordinator. According to Williams, "SAGE of South Florida, a completely volunteer organization, had assessed their resources and determined they did not have the infrastructure to administer the program. Because The Pride Center and SAGE of South Florida have a long, successful history of collaboration, SAGE of South Florida and SAGE USA approached The Pride Center about coordination the program. The Pride Center exhibits a proven track record of effective grant management and program administration and had the space and staff resources to provide the needed services. After lots of discussion and planning, we knew this could be a win-win collaboration for the local LGBTQ community."
South Florida's SAGEWorks program is administered through The Pride Center's Senior Services Office and is managed by Williams with guidance from SAGEUSA. Williams notes that "the grant from SAGE USA is directly with The Pride Center. Thankfully, we have the full collaboration and support of SAGE of South Florida." The Center "launched our SAGEWorks Program with a series of three two-hour orientations that were held this past August. Those interested in participating in any part of the program needed to enroll in these orientations." Williams managed publicity, enrollments and held meetings with interested individuals. (Williams notes that, "in response to our publicity, we were overwhelmed with hundreds of interested parties.") The orientations provided access to the program and immediate enrollment in the AARP WorkSearch Program. This is "an on-line system that enables the user to self-assess their job skills, to match those skills to various professions, to seek and obtain training and to search for area jobs." In all its endeavors, The Pride Center has the support of several community partners including The Royal Palms Resort, The City Credit Union, Target The Peninsula, The Stonewall National Museum and Archives, Cindy Kent of the Sun-Sentinel and Steve Rothaus of the Miami Herald.
According to Williams, "those individuals who completed orientation are eligible to enroll in our ten week computer course." The computer classes are taught by Ken Goodman, who is also President of SAGE of South Florida, with the assistance of several Pride Center volunteers. Williams adds that "those interested individuals who missed out on our original endeavor will have an opportunity to become part of the program when we repeat the orientation and computer class combination once again in late December." Meanwhile, "the final component of the program will be a series of three community-wide presentations and seminars that The Pride Center will organize to assist job seekers with such matters as resume writing, cover letter skills, one-on-one interviewing and the use of social media to enhance job-search possibilities."
For more about SAGEWorks, visit http://www.sageusa.org/programs/sageworks.cfm
Jesse's Journal
by Jesse Monteagudo