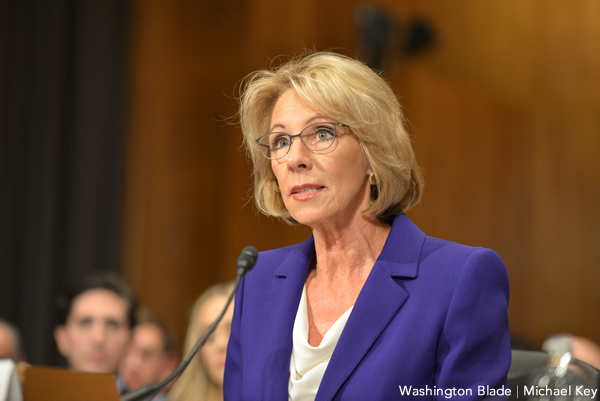 A protester who was arrested while attempting to block Education Secretary Betsy DeVos from entering a D.C. school is a gay refugee from Afghanistan who penned a column for the Blade last month. (Blade photo by Michael Key)
A gay man who fled Afghanistan with his family in 1990 out of fear of persecution and death from the Taliban was among several protesters arrested on Feb. 10 for attempting to block U.S. Secretary of Education Betsy DeVos from entering a D.C. middle school.
Bilal A. Askaryar, 32, has been charged with assaulting a police officer and failing to obey a lawful command of an officer during a protest outside Jefferson Middle School Academy in Southwest Washington. Police said about 50 protesters confronted DeVos as she entered and left the school in a government car.
"[T]he defendant (Askaryar) along with several other protesters blocked the driveway to the parking lot of the school and blocked the path of Secretary of Education B. Devos' vehicle," a police affidavit in support of Askaryar's arrest says.
"The defendant (Askaryar) and the other protesters got violent and started pushing and shoving the police officers on the scene," the affidavit says. It says that Askaryar was caught on video pushing a police sergeant and a police officer.
Court records show Askaryar is scheduled to appear in D.C. Superior Court for a misdemeanor status hearing on March 17. He has pleaded not guilty to the charges.
In a Jan. 31 column in the Blade he said he and his family were lucky to be able to flee Afghanistan as refugees on a journey that took them to India, Pakistan and Hong Kong before being granted U.S. political asylum in San Francisco in 1990. He has since become a U.S. citizen and has received a master's of arts degree from American University's School of International Service.
Source: Gay Afghan refugee arrested in D.C. protest against DeVos