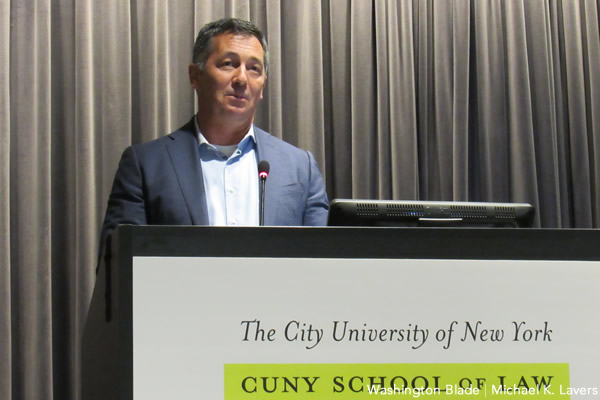 Deputy Assistant Secretary and Special Envoy for the Human Rights of LGBTI Persons Randy Berry speaks at OutRight Action International's annual summit at the CUNY School of Law in Long Island City, N.Y., on Dec. 10, 2016. (Washington Blade photo by Michael K. Lavers)
The Trump administration will allow the position of special U.S. envoy to promote LGBT and intersex rights abroad to remain in place at the State Department.
A State Department spokesperson told Foreign Policy on Monday that Randy Berry is continuing "in his role under the current administration." A State Department spokesperson reiterated this statement to the Washington Blade.
"Deputy Assistant Secretary of the Bureau of Democracy, Human Rights and Labor Randy Berry, a career Foreign Service officer, continues in his role under the current administration," the spokesperson told the Blade.
Former Secretary of State John Kerry in 2015 announced the creation of the position within the State Department's Bureau of Democracy, Human Rights and Labor.
Berry has traveled to Jamaica, Honduras, Botswana and more than 40 other countries. His bio on the State Department's website currently identifies him as "deputy assistant secretary and special envoy for the human rights of LGBTI persons."
Monday's statement comes against the backdrop of concerns over whether President Trump would eliminate the special LGBT envoy position. Advocates have also urged the new administration to continue U.S. efforts to promote LGBT and intersex issues around the world that the Obama administration began.
Family Research Council President Tony Perkins asked Trump late last year to remove "activists" from the State Department who promote LGBT and reproductive rights abroad. A spokesperson for the president's then-transition team told the Blade that any suggestion "that discrimination of any kind will be condoned or tolerated in a Trump administration is simply absurd."
Media reports that emerged last week suggest Ivanka Trump and her husband, Jared Kushner, urged the president not to sign a religious freedom executive order.
Source: U.S. LGBT envoy to remain in place