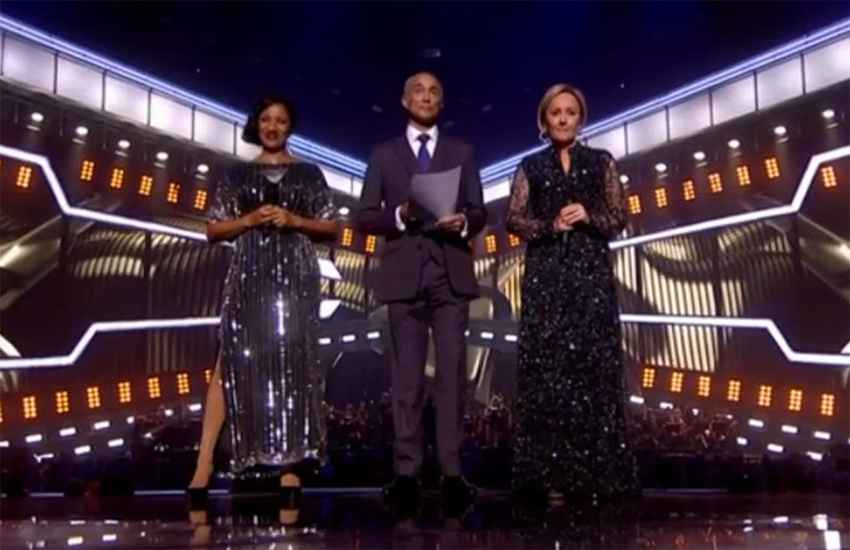 The annual Brit Awards took place in London last night, and by far the most emotional moment of the evening was a tribute section to George Michael. The singer and songwriter died on Christmas Day.
Wham! partner Andrew Ridgeley and former band mates Pepsi and Shirlie took the stage of the 02 to offer their own recollections of the much-missed singer.
"On Christmas Day 2016, the greatest singer songwriter of his generation, an icon of his era, and my beloved friend, George Michael, was lost,' said Ridgeley – who has largely withdrawn from the limelight since his Wham! days.
'A supernova in a ferment of shining stars had been extinguished, and it felt like the sky had fallen in. We larked around and laughed a lot, we were the best of friends.
'George's contribution to the great archive of contemporary music rests alongside the immortals.
'George has left for us in his songs, in the transcendental beauty of his voice, and poetic expression of his soul, the very best of himself.
'I loved him and in return, we, you, have been loved.'
'Music has magical power and George understood that'
Ridgeley recalled that they had first met in 1975: 'Two boys who shared a mutual sense of humor, a love of life-affirming music, the artists and records it gave birth to, and a shared sense that we understood it.
Shirlie Kemp recalled sending early Wham! demo tapes to record companies, only to see them all returned at first with notes saying 'no thank you', until one young label chose to take a chance on the band.
Fighting back tears, she went on to say, 'George was like a brother to me. And will always be … His wonderful way with words spoke to everyone. And his beautiful voice will live on forever as a gift to us all.'
Pepsi DeMacque-Crockett said, 'We always knew George was destined to become a star in his own right. On tour, Shirley and I would watch him sing. His voice was stunning, pitch-perfect, and his performances spellbinding.
'Music has magical power and George understood that.'
The trio were followed by Chris Martin of Coldplay performing Michael's hit, A Different Corner, while a video screen showed highlights of Michael's career.
Michael first came to fame in the UK with Wham in 1982 and the single 'Young Guns (Go For It)', going on to achieve global success with hits such as 'Freedom' and 'Careless Whisper'. The band split in 1985 and Michael had huge success with debut solo album, Faith.
He died aged 53 at his home in Oxfordshire. His death is not being viewed as suspicious, according to police, but a subsequent post mortem into his cause of death was 'inconclusive'. The results of further tests into his death are pending.
Winners at last night's Brit Awards included the late David Bowie, honored posthumously with Best British Male Solo Artist and British Album of the Year (for Blackstar), Adele ('Global Success Award'), The 1975 (Best British Group), Drake (Best International Male), Beyoncé (Best International Female), and Emeli Sandé (Best British Female Solo Artist), among others.
Source: Former Wham! bandmates pay tearful tribute to George Michael at Brit Awards