An adopted son finds a home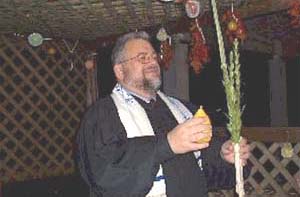 Michael Greenspan, Etz Chaim's cantorial soloist, is celebrating the synagogue's 30th Anniversary
2004 marks the 30th anniversary of Congregation Etz Chaim, a spiritual home for gay, lesbian, bisexual and transgendered Jews and our friends in South Florida. On March 27 CEC will celebrate this milestone with an Anniversary Dinner Dance. As one of the honorees - along with Ms. Carolyn (Lyn) Saberg - I am proud of our Synagogue, and of the men and women who made it so successful.

I wrote about Congregation Etz Chaim in 1995 in "Notes of an Adopted Son;" an essay that was first published in Friends and Lovers: Gay Men Write About the Families They Create, edited by John Preston and Michael Lowenthal (Dutton); and then (2002) inFound Tribe: Jewish Coming Out Stories, edited by Lawrence Schimel (Sherman Asher). Though it was basically the story of my conversion to Judaism in 1976, I also wrote about CEC and its importance in my life:

In March, 1976 I met Steve Jerome, at that time a law student at the University of Miami. Jerome, who later became famous in our community as a lawyer and a singer - and a singing lawyer - was a unique and interesting person; and we became partners. Steve, as it turned out, was active in Congregation Etz Chaim, Miami's lesbian and gay synagogue. Though I heard about Etz Chaim, I had never been there, so I accepted Steve's invitation to go with him to shul. The rest is history.

Congregation Etz Chaim, then the Metropolitan Community Synagogue, was founded in 1974 by gay and lesbian Jews who were not comfortable with the Metropolitan Community Church. In the Spring of 1976, services were held at the YWCA building in downtown Miami. The Synagogue was run by the lay leadership, then for the most part consisting of the Synagogue's founders. Since congregants came from all branches of Judaism, service leaders tried for a mix of Conservative and Reform. Etz Chaim did not have a rabbi at that time, nor a permanent home or any of the accouterments one expects to find in a temple.

Though organized as a Synagogue, Congregation Etz Chaim drew lesbian and gay Jews who were not religious but who had strong ethnic and cultural links to the people Israel. Some came to Etz Chaim for the services; others came for the social events -- Etz Chaim's annual drag shows, featuring the "Fabulous Yentettes", were already notorious; and virtually everyone looked to Etz Chaim as a place where those who are "twice blessed" could be out of their double closets, free to be gay and Jewish in a world that was often anti-semitic and mostly homophobic.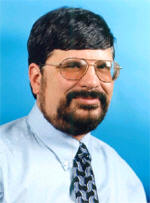 GayToday columnist Jesse Monteagudo has been a member of Congregation Etz Chaim since 1976
Though I have been to synagogues before, this was the first time I attended a "gay" synagogue. I remember being greeted at the door by David, a lovable old bear who took me by the hand and introduced me to everyone there. A stranger in a strange land, I was fortunate to already know some of the people there, including Steve and B. Jay Freier, one of the Synagogue's founders and at time its president. Someone put a prayer book in my hand and a yarmulke on my head and I sat down, looking at the incomprehensible Hebrew script in front of me (fortunately for me, the prayers were also transliterated into English script).

I sat (and stood) through the services, led by Jay, Steve and Howie (another founder), following the time-honored prayers of the Sabbath Service. Services were followed by the Oneg Shabbat - literally the "joy of the Sabbath" - and actually an after-service social with plenty of food, coffee and shmoozing (conversation). For many congregants, an Etz Chaim Oneg is the social highlight of the week.

All the roads that I traveled in my life, whether they be sexual, social, religious or communal, came together that night. Though I could not explain it to myself, I knew that this was where I belonged. Etz Chaim was different from other synagogues, not only because it was gay but because its friendly and informal nature encouraged participation from the congregation. It was clear that the members of Etz Chaim, joined by shared ethnic, religious and sexual identities, cared for each other and looked to each other for support, assistance and camaraderie. Here was the family I was looking for and the community I never had!

I was not the first goy (gentile) to be active in Congregation Etz Chaim, nor was I to be the last. But I wanted to do more than sit in the sidelines, as a clever shaygetz (gentile partner) in a nominally interfaith partnership. Howie, a devout man who was at the time a member of both CEC and Congregation Beth David, Miami's largest Conservative synagogues, noted my interest almost before I did. He came up to me one night and asked me if I was interested in pursuing a conversion. Without a thought, I said yes.

After my conversion, I became more active in Etz Chaim's congregational life. Having achieved an Etz Chaim first with my conversion, I went on to become this Synagogue's first bar mitzvah (1979). I also served on the Synagogue's board, on and off, for the past 26 years, most notably as President from 1989 to 1991.

Though my political, social and literary interests have taken me elsewhere, Congregation Etz Chaim continues to be my second home, and the Jewish family that I never had. It was there that I met my life partner Michael Greenspan, now the Synagogue's cantorial soloist: a teacher, a musician and a lovable bear who combines all the qualities that have attracted me to Jewish men for so many years. After 19 years together, Congregation Etz Chaim is still a part of our lives.
---
Jesse Monteagudo is a freelance writer and activist who dedicates this column to his many Etz Chaim friends who are no longer with us; especially B. Jay Freier, Phil Wallach, Esther Weiner, Sandy Schaps, Mitch Novak and Harvey Pearson. E-mail him at jessemonteagudo@aol.com .