India: The Deaths of Two Women in Love
Compiled by GayToday
Dina Thanthi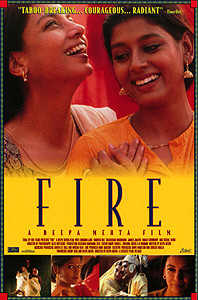 The 1997 film Fire brought the issue of homosexuality to the cinemas of India. Now, the message of the film resonantes again following the suicide of two Indian women who killed each other rather than be forced to live apart
The following is a free translation from an article that appeared in the Tamil Daily Newspaper Dina Thanthi (Bangalore edition, Page 10) on 4th October 2002

"We are not able to live apart from each other" from their last letter

Satyamangalam, October 4th 2002 - Dead bodies of 2 young women were found at the Satyamangalam forest area, Erode district. They had committed suicide as they could not live apart from each other and they had a homosexual love relationship. They wrote in their heartbreaking letter that they couldn't live apart from each other.

Dead bodies in the forest

Geethalakshmi 27yrs, daughter of Thangavel from Kallipatti(Gopi)and Sumathi 26yrs, daughter of Palaniappan from Korathoor(Chennai)have committed suicide in Toranapallam near Bannari in Satyamangalam forest area, Erode district. Police started investigating the case of these 2 unmarried young women, who committed suicide. They came across the letters written by these women and found the following details.

Homosexual love

Sumathi and Geethalakshmi were staying together at a Yoga Centre in Coimbatore for the last 3 years. Their close friendship later turned into homosexual love. They were not able to live away from each other. They were postponing marriage, as they were not interested in getting married to men.

Exposed

They were thrown out of the Yoga Centre when people at the Yoga Centre came to know about their homosexual love relationship. As they had no other way, they had parted from each other and got back to their respective houses from Coimbatore. But they were unable to bear the parting.

She came to meet

Under these circumstances Sumathi had come from Chennai to see Geethalakshmi in Kallipatti, (Gopi). Sumathi stayed with Geethalakshmi for 10 days. Geethalakshmi's parents did not bother about Sumathi's stay, as they Sumathi and Geethalakshmi were close friends. Away from others, Sumathi and Geethalakshmi spoke to each other.

Inseparable

We can't live apart from each other any more; our homosexual love will not be accepted by the society. Not only that others have come to know about our homosexual relationship. Even if we get married we have to live separately from each other. Together they discussed and decided to commit suicide. According to their decision they bought soft drinks, sweets and poison. They wrote letters to their parents about their sad decision. They also wrote a letter to the Guru in Yoga centre.

Suicide

They went ahead with their decision by leaving their respective houses on 28th last month, on the pretext of visiting the Bannariamman Temple. They went to Toranapallam forest near Bannari and committed suicide by consuming poison. People found their dead bodies in the forest only after four days.

Heartbreaking letter

These two women in their letter had clearly written, "we are not able to live apart from each other and that is why we have arrived at this decision". Sumathi in her letter to her father wrote the following:

"Don't separate us after death"

"Father, my brother and sister-in-law have been cheating you. Please give them separate property and one shop. Both of us have done a mistake. This society will not accept our relationship. We cannot live apart from each other. That is why we took this decision. Whether you bury us or burn us do not separate us from each other".

Sumathi and Geethalakshmi together wrote a letter to the Guru in the Yoga Centre stating "we did a mistake because of which you threw us out. After coming out we thought and realized that we committed a big mistake. We cannot survive in this society. That is why we arrived at this decision. Please forgive us".

Parents' grief

Sumathi's parents, sister-in-law S. Veda and relatives from Chennai came to Satyamangalam Police station. Sumathi's sister- in-law S. Veda is an ADMK councillor of Chennai City Corporation. Sumathi's younger sister came from Yoga Centre to Satyamangalam, saw Sumathi's body and was crying loudly. Geethalakshmi's parents, relatives and many others came from Kallipatti (Gopi) and were crying loudly after seeing both the dead bodies.

Last wish fulfilled

The dead bodies of both Sumathi and Geetha were handed over to their parents after the post-mortem. As per their last wish, their bodies were burnt together on the same pyre in the Satyamangalam burial ground. These two women committing suicide because of their homosexual love has become a major issue for the people in the Satyamangalam area.