Army of God's Rev. Bray
Praises the Beheading of Gay Men
By Bill Berkowitz
The Rev. Michael Bray of the Army of God
Shortly after the New Year's Day beheading of 3 homosexuals in Saudi Arabia, the Rev. Michael Bray, who is known as the "chaplain" of the Army of God (AOG), wrote effusively about the executions. At the AOG's website, the Rev. Bray writes:

"While the Christians among us westerners would decline to emulate our Muslim friends in many ways…we can appreciate the justice they advocate regarding sodomy. Might these fellows also consider an embryonic jihad?...Open the borders! Bring in some agents of cleansing."

Five months later, on May 18, Saudi Arabia "executed yet another homosexual pervert," according to Bray. "The Saudi's," he wrote, "illustrat[ed] the Almighty's craft in bringing good out of evil."

Last week, James Kopp, who was preparing to stand trial for the October 23, 1998 murder of Dr. Barnett Slepian, a well-known abortion provider in upstate New York, confessed to the killing. While the confession may have stunned and surprised some in the antiabortion movement, the Rev. Bray was not among them.

In a story titled "James Kopp, Man of Peace," published prior to Kopp's confession at the AOG website and at Neal Horsley's notorious Christian Gallery website, the Rev. Bray, who claims to celebrate life yet honors murderers, extolled the virtues of Kopp's actions. Bray asserted that Kopp, who he calls "Atomic Dog," had indeed killed Dr. Slepian: "The termination of the murderer [Dr. Slepian] was a deed quite consistent with Mr. Kopp's life of service for the innocent, brutalized womb children of America. It was a good deed that brought peace for many innocents through the death of a wicked serial killer."

"The operating mind-set of many who doubted that credit for the deed belonged to Atomic Dog was the confused notion that shooting murderers to prevent murder is unbecoming a 'prolifer,'" The so-called pro-life mainstream should celebrate the actions of Kopp and not distance themselves from it, he argues. "Killing a serial killer to stop the murdering of the innocent is not 'heinous'; it is glorious. It deserves no punishment; rather, it merits accolades, awards, honors, and promotion," he writes.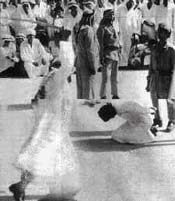 A beheading in Saudi Arabia
Claims like the one made by Richard Bruno "that says that Kopp couldn't have done the crime because, 'He's a great person - very reliable, very dependable, a holy man. He's a very peaceable man and the last person in my mind to suspect," is dead wrong writes the Rev. Bray. "A partial amen. He [Kopp] is absolutely the type of person to suspect. Good deeds become good people. And that is precisely why Atomic Dog came through. The innocent and the helpless, especially, could rely and depend upon this holy man."

The Rev. Bray is the author of A Time to Kill: A Study Concerning the Use of Force and Abortion, which he calls "an ethical treatise on the use of force in defense of the child in the womb." He went to prison for his role in the firebombings of 10 mid-Atlantic abortion clinics in the 1980s and served two years of a six-year sentence after being convicted of conspiracy and explosives charges.

He is also the co-host of the annual antiabortion event known as the White Rose Banquet. Organized annually by The Order of the White Rose, this terror-fest which honors antiabortion militants, has decided that this year in lieu of the Banquet, they would have a different kind of gathering in the Washington, DC, area in January on the eve of the thirtieth anniversary of the Supreme Court's Roe v. Wade decision.

According to the Army of God website, the location of the event is being kept secret at this time:

"In the interest of security and brotherhood, those desiring to attend who are unknown to us, will be required to provide references." They will also be required to send in "$35 along with personal data to the White Rose Fund ASAP," and they will be "notif[ied] …of the location for this private gathering in the D.C. area."

The Army of God (AOG) has slipped in an out of the news over the years. However, since 9/11 it has had a noticeably higher profile. On July 4, a Washington Post photographer shot a picture of grinning stilt-walking Rev. Bray who was dressed as Uncle Sam for the Kennedy Center's Fourth of July reception. The picture was published in the Post's July 8 "Out & About" column.

According to the Post's Lloyd Grove, abortion rights activists weren't amused. Eleanor Smeal, president of the pro-abortion-rights Feminist Majority, called the appearance by the Rev. Bray "outrageous. You've got a convicted felon playing Uncle Sam!"

And Vicki Saporta of the National Abortion Federation, called Bray "one of the most well-known domestic terrorists." Bray called criticism of his stilt-walking gig "archaic intolerance" and described his detractors as "some carping wench [who] wants to go about plowing her issues." He added: "What bigotry that they would want to deny employment to an ex-con for his religious beliefs."

The Rev. Bray also supported the actions of anti-abortion terrorist Clayton Lee Waagner who after escaping from an Illinois jail, spent 10 months on the lam engaged in a number of terrorist activities. Before he was finally captured in early December, 2001, Waagner admitted to sending letters claiming to contain anthrax to hundreds of abortion clinics. "The use of anthrax or the threat of the same is not popular," the Rev. Bray said, "especially in the wake of 911. But it was certainly effectual. Abortuaries were closed all around the country. Babies were, by all facts of statistics, saved from death."

James Kopp told Buffalo News reporters Lou Michel and Dan Herbeck: "I did it, and I'm admitting it. But I never, ever intended for Dr. Slepian to die."

In his opening statement during a far-ranging four hour jailhouse interview Kopp said "To pick up a gun and aim it at another human being, and to fire, it's not a human thing to do. It's not nice. It's not pleasant. It's gory, it's bloody. It overcomes every human instinct. The only thing that would be worse, to me, would be to do nothing, and to allow abortions to continue."

According to Michel and Herbeck, Kopp admitted to having known nothing about Dr. Slepian before he chose his name from a list of abortion providers in the telephone book; he eventually selected Dr. Slepian because his home appeared to be the most vulnerable for a successful shooting; and he scouted the neighborhood at least a half-dozen times. Kopp insisted that he "tried very hard" to only wound Slepian; declined to say whether he had been involved in four similar, but nonfatal, shootings of abortion doctors in Perinton, Monroe County; Ancaster, Ont.; Vancouver, British Columbia; and Winnipeg, Manitoba; and said that he had "acted alone."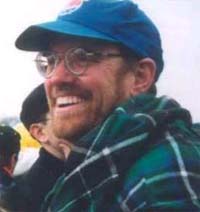 James Kopp: Admited killing an abortion doctor

After killing Dr. Slepian, Kopp had been on the run for more than two years and was placed on the FBI's Ten Most Wanted List. According to authorities, Kopp had been to Mexico and Ireland before he was eventually captured in Dinan, France, in March 2001. Kopp, who will stand trial in an Erie County Courtroom next year, believes it is possible that jurors will acquit him.

According to Michel and Herbeck, Kopp "hopes jurors who hear his defense will conclude that he never meant to kill and that his sole intention was to protect unborn children. 'Any reasonable person could see a distinction between me and the D.C. sniper,' Kopp said. 'Why was Dr. Slepian shot? The obvious answer is to save children. If you did the same thing to protect a baby that was one day old, it would never be considered a crime.'"