A Revolution Reborn in Speeches and in Songs
By Jack Nichols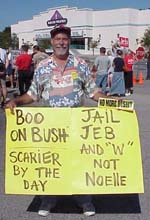 Activist Bob Kunst
I have two friends, a woman and a man who've sometimes run into each other at rallies and protests. Though they live in different corners of the nation, they're on much the same page. Sandy Rapp is a singer who composes her own ballads. Bob Kunst is an orator who speaks his own mind. Sandy and Bob are both getting along in years but this hasn't crimped their styles, their indefatigable voices, determined and persistent. They've never tired, it seems, always willing to travel, always assured they'll somehow inspire folks in faraway locales to political action. They remain priceless reminders of a past that now, more than ever, deserves a cyclical new day.

To hear their voices is to be transported to a realm where courage lives without self-consciousness, where anger is transmuted into action, where self-esteem eliminates cynicism. Sandy, who is also an author and an activist, often serenades her longtime heroines, but her words, I'd say, describe her own visage too:

With a sixties kind of style.
Salt and pepper hair, and a
Vest and bluejean smile…

These lyrics are from her new CD, Flag and the Rainbow, an album that evokes the spirit of an era that all fundamentalist religious loonies and Republican zealots despise. The conservatives of today continue to damn that period as a time when ordinary Americans questioned unbridled militarism, corporate malfeasance and sexual dogmas. GOP zealots hated the 1960s counterculture spirit because it eventually succeeded in unseating their creepy Republican hero, an unethical president who, to no avail, had insisted that he wasn't a crook.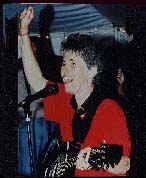 Sandy Rapp

This cyclical spirit of the 1960s lives in Sandy Rapp's songs. It is certainly the spirit of the Stonewall. This time around, no doubt, its rebirth has been proving a more painful process, but the piercing cries of the present - heard from coast to coast -will yet grow up, evolving into anthems such as Sandy Rapp herself has composed. They'll have their own militancy, grounded in a desire for peace, locked in a struggle against the fascist-corporate powers that be.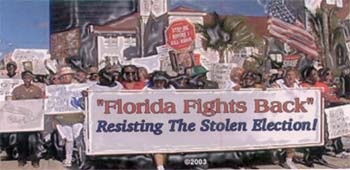 Cover of the video Florida Fights Back: Resisting the Stolen Election
Bob Kunst's fiery oratory has made its way into a magnificent video: Florida Fights Back: Resisting the Stolen Election. For two years, GayToday proudly chronicled Bob's passionate crusade as he made his way throughout his native Florida and across the nation, chanting "No More Bushit!" and, with rented planes, unfurling banners in the skies-over the Super Bowl, the Oscars, The Kentucky Derby and the Daytona 500 --that read: "Bush Stole the Election!"

Fortunately, thanks to grassroots activists Jeannine Ross and Bruce Yarkock, Bob and his comrades have also been captured on film along with hard-hitting commentary by best-selling investigative reporters/authors like Greg Palast (The Best Democracy Money Can Buy) and former Los Angeles Deputy District Attorney Vincent Bugliosi (The Betrayal of America).

Whether in song or in action, Sandy Rapp and Bob Kunst stand out as preeminent visionaries who don't know the meaning of the word "cynical" because they're too busy to collapse and lament the sorry state of things today. Instead of insisting that "there's nothing anybody can do" they're doing it. Instead of giving up, they continue unbent, taking their messages to the streets, speaking and singing from the housetops.

Sandy's performances have taken her to the National Women's Music Festival, the Gulf Coast Womym's Festival, and to National NOW rallies in Washington, D.C., New York City, and Seneca Falls. She has appeared at Atlanta's Existentialist Center, Manhattan's People's Voice café, the Gay Veterans' Memorial Dedication in Palm Springs, California, and the Gay Millennium March on Washington. Her books and CDs are available at Amazon.com and through SandyRapp@aol.com Her website can be accessed at http://members.aol.com/SandyRapp/index.htm

Information about purchasing Florida Fights Back: Resisting the Stolen Election the video that captures Bob Kunst and his unforgettable fellow protesters-can be had through www.floridafightsback.com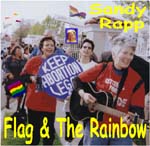 Sandy Rapp's Flag and Rainbow