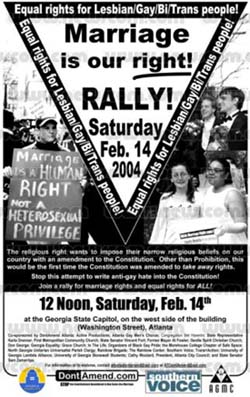 Los Angeles, California-- Gay leaders reacted angrily Friday to the Massachusetts legislature's decision to push forward with a constitutional amendment discriminating against same gender marriage in that state. DontAmend.com, a national network devoted to stopping anti-gay constitutional amendments and initiated the first nationwide day of protests for equal marriage rights on February 14th, is calling on all who believe in equal rights to picket their post offices on tax day, April 15th, to protest taxation with discrimination.

"While some are trying to spin civil unions as being equivalent to marriage, the experience of Vermont has been that the vast majority of marital rights and benefits accrue at the Federal level, and so are not equal, even on the face of it, with measures such as Social Security survivors benefits and the right to naturalize non-citizen spouses being denied same sex couples," said Robin Tyler, National co-chair of Dontamend.com. "The idea that this government can take our tax money, and then say we are not entitled to equal rights and benefits, is offensive at its core.

Both Republicans and Democrats voted to amend the Massachusetts constitution. Civil Unions are separate, but not equal, and are, inherently discriminatory. Therefore, both the Democrats and Republicans who voted to amend the Massachusetts Constitution are marriage segregationists. It's a pathetic barometer on the state of civil rights in this country when any major political leader, including Democratic Presidential candidate Senator John Kerry, who has come out in support of a Massachusetts Amendment, could seriously propose 'separate but equal' institutions to replace same gender marriage, which is to begin on May 17, the 50th anniversary of the Brown v. Board of Education of Topeka, Kansas, outlawing segregation."

Tyler is a co-plaintiff in a suit by attorney Gloria Allred against the County of Los Angeles for the County's discrimination against same gender couples seeking marriage licenses.

"The actions of the California Supreme Court yesterday in at least temporarily halting same gender marriages in San Francisco, is an ugly stain on the state's reputation. As Martin Luther King, Jr. said generations ago, 'justice delayed is justice denied,'" commented Tyler.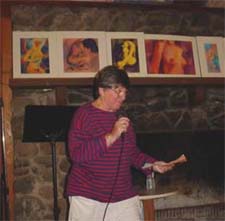 Lesbian activist Robin Tyler is fighting for her right to marry
"The Court has to focus on a very simple, basic issue," Tyler continued. "Do they favor legal equality for all, or do they endorse discrimination against a whole group, with the official seal of approval from the state? They can chose to either follow the great legacy of when California became the first state to strike down laws banning interracial marriage, or they can follow the disgraceful legacy when it endorsed wholesale legal discrimination against Asian Americans. They have a stark choice, and we intend to be on the streets to demand that it's the right choice."

To contact DontAmend.com to help initiate Tax Day activities in your area, individuals and organizations are encouraged to email RTDontAmend@aol.com .