Texas Sodomy Decision Looms;
Groups Readying Responses
Compiled by GayToday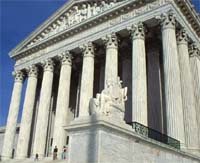 Washington, D.C.-Noting that a U.S. Supreme Court decision is soon to be delivered, one that will profoundly affect America's LGBT communities, urgent messages from Robin Tyler and Andy Thayer (former StopDrLaura organizers) and from Lambda Legal, defenders of gay and lesbian civil rights, are being sent throughout the USA to organize massive celebrations or, perhaps, unparalleled protests, depending on the course that the Supreme Court takes. The texts of the messages are as follows:

A Message from Robin Tyler and Andy Thayer:

Dear friends,

It's been quite awhile since we last spoke with you, and we hope you have positive memories of your involvement in the successful campaign to stop Laura Schlessinger's daily, nationwide TV program. We're contacting you because we hope you will consider organizing an event around the most important LGBT court decision of our generation -- the Lawrence v. Texas sodomy law decision.

Events already are being planned in West Hollywood, California, Washington, DC, Chicago, and perhaps other cities we don't know about yet, and we hope your city will become one of them as well. The plan in each city is to have an event at 7 pm the evening the decision is made, either a protest or celebration, depending on what the Court decides. Below is a sample message (used in Chicago) about why it's so important to organize around this historic event.

If you do decide to organize an event, we will be happy to assist you by providing downloadable posters and handbills which can be edited to fit your local situation, promote your event through our national press LGBT press contacts, list serves and our website, and by offering suggestions with how to organize your event.

Please contact us right away if you are interesting in participating in this, even if you're not sure yet about whether you want to take this on. While a decision apparently has not been made yet today, it almost definitely will be coming one of these Mondays this month.

We hope to hear from you soon.
---
A Message from Lambda Legal:

Last Thursday Lambda Legal hosted a nationwide conference call designed to update the community on possible outcomes in the Supreme Court's forthcoming decision in the Texas sodomy law case. Lambda outlined the two main legal principles at stake:

1) Our right to equal protection under the law. In other words, gays, lesbians and bisexuals should not be singled out for legal discrimination by laws which specifically target same-sex sodomy, but say nothing about heterosexual sodomy. The laws in Texas and a few other states do this.

2) Our right to privacy. Like with the right to abortion, LGBT and straight people living in states which outlaw sodomy in general have private lives which the state has no business intruding upon.

If the court strikes down the Texas case on the equal protection grounds, while this would affect sodomy laws in only a few states, the effect could be very far-reaching. By enshrining the legal principle of equal protection for gays, lesbians and bisexuals, the court could be forced to move along the path of endorsing our rights in a whole host of different areas such as marriage, military service, employment, housing, equal accommodations, perhaps even more. Favorable court decisions on marriage, or its equivalent, across Canada and in Vermont are examples of equal protection under law.

If the court strikes down the Texas case on the basis of people's right to privacy, it will likely nix all of the country's sodomy laws, a big victory for LGBT people particularly in many conservative southern and western states (the overwhelming majority of those on the conference call). By reinforcing the right to privacy, this would also help stem the erosion of Roe v. Wade.

The court may decide to endorse both principles, just one of the principles, or uphold Texas's retrograd legislation in its entirety. Which ever way it goes, we are facing the most significant LGBT court decision of our lifetimes.

Consequently, we must be prepared to act:

In CELEBRATION if the court upholds one or both principles of equal protection and/or privacy. If we win, our community must ACT to press our advantage.

Why? Because history has sometimes seen good court decisions which remained dead letters because there wasn't yet the public pressure to force their implementation. Case in point: the famous 1954 Brown v. Board of Education of Topeka, Kansas decision promised to desegregate the nation's schools "with all due deliberate speed" . . . but nothing happened until the Civil Rights Movement heated up in the early 1960s and forced the federal government to act.

We will act in PROTEST if the court upholds the reactionary Texas legislation. It is dangerous to simply take attacks on our community lying down. If we lose, we need to send a powerful message to the larger citizenry that Lesbian, Gay, Bisexual and Transgendered people will not meekly accept rotten court decisions or legislation. Our self-respect, and our commitment to total equal rights not only for us, but for future generations of LGBT people, if nothing else, demands that we protest and begin to organize our community, locally and nationally, to make our voices heard.

Either way, we need to be prepared to act quite soon. Lambda said that the decision almost definitely will be announced at about 9:30 am (our time) on a Monday in June. -- i.e., we might need to act as quickly as today!

We are asking LGBT folk and our straight supporters to gather at 7 PM on the day of the Court's decision at the corner of Roscoe and Halsted, Chicago. We will celebrate or protest the court's decision and indicate what appear to be our next steps.

So please sign up to our emergency contact list by going to the following website, www.CABN.org/DefendOurRights to pledge your public support for this action, or to get more information.

Thank you!