Singapore's Community
to Celebrate Nation's Independence
Compiled by GayToday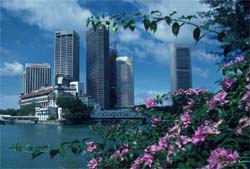 Singapore--For the second time here, the GLBT community will celebrate the nation's Independence Day on August 8.

Organized by Fridae.com, an online Asian gay and lesbian Internet community based in Hong Kong and Singapore's Kinemat Productions, Nation02 hopes to celebrate the country's 37th birthday with more fanfare than last year.

The event will be held at the Fountain Gardens in Sentosa, a resort island located just south of mainland Singapore.

Nation01, which has been dubbed by international press as Singapore's "gay and lesbian Mardi Gras" and "coming out" party, took off with over 2,000 guests celebrating National Day, as well as "the joy and sense of togetherness."

"Nation02 will be unprecedented in many ways - we are fortunate not only to have some of the best-liked DJ's from the Australian party circuit, but also sponsors such as Qantas who have been very supportive of the GLBT scene in Australia, and now Singapore. Ticket sales have been phenomenal, and we expect NATION02 to be a truly international event." said Dr Stuart Koe, of Fridae.com.

Organizers will also donate a portion of the proceeds of Nation02 to Action for Aids, which has received more than S$10,000 through Fridae's events last year.

Dr Roy Chan, President of Action for Aids, Singapore's only HIV/AIDS advocacy group said: "Nation 2001 was not just a major social event in the gay/lesbian calendar last year, it was also a stepping stone in community building and social activism for homosexual man and women in Singapore.

"Acceptance, self-respect and accurate information are all prerequisites to responsible and safe behaviors. These in turn are necessary to prevent the spread of HIV/STI and to provide a compassionate and supportive environment for those already infected.

"Greater effort is needed to develop unity and togetherness among the GLBT communities if we are to face off our common enemies. AfA would like invite one and all to be at Nation 02 - to be part of this exciting process."

Nation 02 promises to be "a mind-blowing light and sound extravaganza" featuring two dance areas with top Sydney DJs Marky Mark and Luke Leal of Frisky (Sydney Mardi Gras recovery party) fame; Singapore-based Spanish DJ Borhead from Kinemat Productions and out lesbian DJ - Lisa C. Partygoers will also be treated to a specially produced laser show by Oracle Lasers.

Nation02 is expected to draw visitors from the region including Malaysia, Thailand, Taiwan, Hong Kong, Korea and Japan.

Security will be stepped up at the venue to ensure the privacy and safety of all Nation02 participants. To ensure the privacy of the guests, no photography will be allowed.
---
Nation 02
When: August 8, 2002
Where: Fountain Gardens, Sentosa, Singapore
Tickets: Presale S$35 (1-31 July) Online ticketing available
(www.fridae.com/nation/ticketing);
at the door S$45
Dress theme: Red and white
Information: http://www.fridae.com