HRC Goes High Tech: Freely Connecting Voters & Officials



Compiled by GayToday
Human Rights Campaign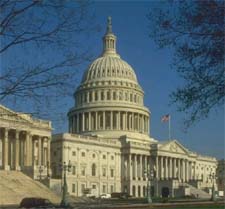 Washington, D.C.--The Human Rights Campaign has launched its newly updated online Action Center, which will help connect people with their legislators and other resources on the local, state, and federal levels.

The Action Center, found on the HRC website www.hrc.org, features contact information for elected officials in every state, online voter registration along with state specific instructions in English and Spanish, and campaign information for every 2002 state and federal race.

"This new technology puts us on the cutting edge of political advocacy and grass roots organizing," said HRC National Field Director Seth Kilbourn.

"The Action Center will help us communicate with our members, who will in turn be able to mobilize quickly and take action to support upcoming gay and lesbian initiatives at the state and local levels."

The new "What's Happening in Your State" section of the website contains comprehensive information and resources on current state laws, recent news, and legislation. Voters will also be able to communicate directly with elected officials in their state through the Action Center.

Updated sections of the Action Center began appearing on the HRC website in February 2002. Since then more than 20 thousand people have logged onto the action center and have become members.

The Action Center is a free online resource that the HRC provides, in hopes of making communication between the gay and lesbian community and their elected officials easier and more frequent.

"The Action Center has proven to be a simple and incredibly effective way for people to communicate with their elected officials on a wide range of LGBT issues," said HRC Senior Field Organizer Michael Crawford.

"Since the improved version of the Action Center has gone online, members have sent thousands of faxes to their members of Congress and state legislators on workplace discrimination, anti-gay violence, HIV/AIDS, immigration and partner benefits."

The updated Action Center will also help bring the HRC and local grass roots organizations closer together, making them stronger advocates for gay and lesbian issues.

"As a statewide organization the support that we received from the HRC to help defeat the antigay constitutional amendment last week was invaluable," said Josh Friedes, political director of Equalmarriage.org: the Massachusetts Freedom to Marry Coalition.

"The Action Center is one more tool to strengthen our ties to the HRC, making it easier for us to work together on shared goals."

Other resources in the Action Center include tips on contacting representatives on Capitol Hill, information on the legislative process, and local media guides for outreach in communities.