Accused Killer Freed in Trinidad by Homophobic Judges
Compiled by GayToday
Marvin Marcano, the accused killer of Christopher Lynch, a 58-year old fashion designer, walked free last week although he'd been found guilty of participating in the chopping of Mr. Lynch to death (42 times with a Chinese chopper) and had been sentenced to hang.

A turnaround decision by Chief Justice Sat Sharma and Justices Margot Warner and Wendell Kangaloo on the Appeals Court, however, dismissed even calls for retrial for the 24-year old Marcano who'd also been acquitted of a second murder charge three years earlier.

In 1999, a jury had found him 'not guilty' in the murder a West Indies student, Shivanand Latchman, stabbed to death in 1997.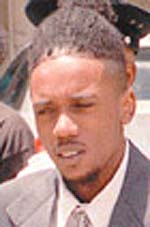 Marvin Marcano

It was revealed during Marcano's most recent trial that the mutilated fashion designer had suffered not only 42 chops, but that his skull had been split apart, his face gruesomely chopped open and that he'd sustained injuries to his chest and limbs.

Justifying Marvin Marcano's release, however, Justices Sharma, Warner and Kangaloo ruled that the issue of self-protection from an unwanted sexual proposition had fueled Marvin Marcano's indignation.

Marcano's defense claimed he and a friend had gone with Christopher Lynch to his home. The threesome had been drinking and watching TV. Next, claimed Marcano, Lynch approached his friend in the bathroom. An argument ensued and his friend rushed forthwith to arm himself with the Chinese chopper. The accused claimed he'd rushed to his friend's defense.

Marcano held Lynch, he said, while his friend chopped away at him and "because he was fighting back and I did not want anything to happen to my partner."

Justice Sharma was quoted saying that Marcano must have believed that his friend was under pressure and needed help.

"The law permits him to intervene, perhaps if he had not intervened his friend might have been the deceased."

With classic homophobic mini-mindedness, the Judge proclaimed:

"The acts themselves were so unnatural that they would have caused a certain reaction."

The Trinidad Guardian reports that the two friends also stole some electric items from the Lynch home which they later sold. The thefts were, apparently, deemed irrelevant in the Appeal Court's notable decision.