Hong Kong: Lesbian & Gay Supporters Increasing

New Zealand's Hero Parade is Doomed



By Rex Wockner
International News Report

Hong Kong: Lesbian & Gay Supporters Increasing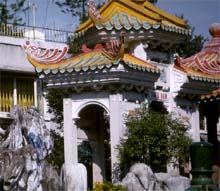 Acceptance of gays and lesbians has increased substantially in Hong Kong since 1996, a new survey found, according to reports in the South China Morning Post.

The survey, conducted by the Polytechnic University and the gay group Tongzhi Community Joint Meeting, found that 75 percent of the 500 people questioned consider homosexual colleagues "acceptable" or "highly acceptable," 73.1 percent accept homosexual classmates, and 69.2 percent accept gay strangers.

More than half approve of gay siblings, school teachers and high-ranking government officials, the report said. Eighty percent said gays should be allowed to marry and adopt children.

However, the research, which was conducted by telephone in May, also found that a majority of people believe homosexuality is a mental illness.

Women, younger people, single people and people with more schooling polled more gay-friendly than other respondents.
---
New Zealand's Hero Parade is Doomed

New Zealand's big annual gay extravaganza, the Hero Parade, is done for, Wellington's Dominion Post reported August 12, detailing fatal money problems and gay-activist infighting.

Members of the incorporated society that runs the parade and festival voted unanimously to shut down the organization, the newspaper said.

The eight-year-old events attracted up to 100,000 spectators to Ponsonby Road, Auckland's "cafe mile."

Sydney, Australia's huge gay Mardi Gras celebration went bankrupt August 1. The organizing agency was placed in "voluntary administration" and its activities were suspended.

Last year's events lost $500,000 (US$269,000) which organizers blamed primarily on reduced travel following the September 11 terrorist attacks in the U.S.

London's gay Mardi Gras festival is $628,000 in debt and may go under, The Guardian reported August 3.

Attendance this year was down 20,000 over projections, which organizers blamed on their decision to relocate the post-parade festival.