International Conference on Bisexuality
to Feature Skott Freedman
Compiled by GayToday
One of the keynote speakers at the upcoming 7th International Conference on Bisexuality - (University of Technology Sydney, Sydney, Australia between the 25th-28th of October 2002) will be a young bisexual activist and performer, Skott Freedman from the USA.

His presentation "Bi Youth Today: Battling for their Bisexuality" will take place on Saturday October 26th.

Skott will discuss the struggles that bisexual youth of today are currently facing in regards to being openly bisexual and the reactions they are receiving from the LGBT and heterosexual communities. Lecturing around the USA has given Skott many stories and insight into the present difficulties with being young, openly bisexual, and welcome into their respectful communities.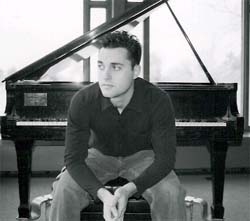 Activist and performer Skott Freedman will be a keynote speaker at the 7th International Conference on Bisexuality

A recent winner of both Outmusic and Stonewall Society music awards, 23-year-old bisexual activist and singer/songwriter, Skott Freedman, heads "down under" next month to tour Australia.

Skott will visit Melbourne, Sydney, Noosa, and Brisbane during his three week international tour with featured performances at the Sydney Gay Games, the Sydney Opera House, Melbourne's Midsumma Fest "Sprung", and more. Skott will claim the honor of being the youngest American to perform at the Gay Games.

He will be a guest performer at the Gay Games 20th Anniversary Celebration, "Yesterday, Today & Tomorrow", presented by the Federation of Gay Games at the Sydney Opera House on Sunday, November 3rd.

Skott as well as being scheduled to be a keynote guest speaker at the 7th International Conference on Bisexuality in Sydney on Saturday, October 26th, 2002 he will also perform at the Biversity Party at the Burdekin Hotel that same night.

Skott recently began his Autumn/Fall tour in the United States, headlining pride festivals in Connecticut and Georgia and once again touring college campuses. Before heading to Australia, Freedman will perform and lecture at universities in New Hampshire, Iowa, North Carolina, California, New Jersey, and Maine.

Freedman, now residing in Charleston, South Carolina, is currently speaking and performing at colleges and pride festivals across the country. He has conducted various workshops and activities centering on awareness and acceptance of bisexuality.

In 2000, Skott began publicly speaking on bisexuality in response to the growing biphobia that has unfortunately become present in the LGBT community. This speaking has developed into his engaging lecture, "Battling Biphobia and Bringing Bisexuals Back to Both Communities", concentrating on breaking down common stereotypes and advocating for acceptance of bisexuals within the LGBT community.

Freedman has since become one of the most popular speakers on college campuses due to his unique presentation mixed with humor, insight, wisdom, and empowerment. He has been invited as a guest lecturer at several renowned institutions including the University of Pennsylvania, Kansas University, Michigan State University, Virginia Tech, and more. Freedman has appeared on NBC News, ABC's Daybreak, international radio program This Way Out, and in national publications such as Billboard Magazine and The Guide.

Freedman recently headed back into the studio to begin work on his next project, Some Company, due out early 2003. The young prodigy's fourth release will feature all new songs and his early roots of solely voice and piano.

Billboard Magazine has hailed Freedman as "one of the more compelling pop singer/tunesmiths we've heard in recent times...a star-in-waiting."

NBC News says that he is, "Opening people's minds..."