Manhattan's Gay TV News Airs on the Web: Thursdays, 11PM
Compiled by GayToday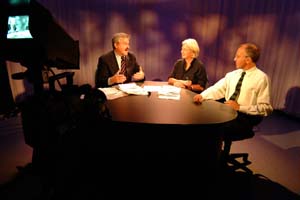 Gay USA's co-host/producers Andy Humm and Ann Northrop (left and middle) discuss the latest news on gay and AIDS issues with a recent guest, Matt Foreman, (right), Executive Director of the Empire State Pride Agenda. The highly popular, 20-year-old weekly news program is now airing Thursdays at 11:00 P.M. on Manhattan's Public Access Television Network
New York, New York-- Gay USA, the popular, 20-year-old weekly news program devoted to in-depth coverage of gay, lesbian, bisexual and transgender issues, has been picked up by Manhattan Neighborhood Network (MNN-TV). Until now, the show has aired on Time Warner Cable's leased access Channel 35.

Now, as part of MNN-TV's regular weekly lineup, the half-hour program, which is co-hosted and produced by veteran journalist/activists Andy Humm and Ann Northrop, will reach a wider audience throughout Manhattan and beyond, as well as gain access to MNN's studio and other facilities which are available to all Manhattan residents at no cost.

Gay USA now airs on Thursdays at 11:00 P.M. over Channels 57 (Time Warner) and 109 (RCN Cable Network) and is simulcast worldwide over MNN's web site, www.mnn.org.

According to Steve Mendelsohn, Executive Director of MNN-TV, Gay USA fits in well with MNN's mission of providing a showcase for fresh, quality programs, ideas and information that might otherwise never be developed or disseminated.

"We are delighted to haveGay USA join our regularly scheduled programming," said Mendelsohn. "The show has a loyal following, and we are proud to offer a venue and a voice for this vital segment of the community that too often doesnšt get realistic representation or an adequate audience."

According to Humm and Northrop, in its new home Gay USA will continue to report on and analyze topical stories of local, national, and international scope on gay and AIDS issues, hard and soft news, as well as broadcast studio interviews with guests ranging from political leaders to noted authors and entertainers.

The co-hosts, who have distinguished records of involvement with gay/lesbian and AIDS causes themselves, also share their personal experiences on the air. Combined with their experience as professional journalists, they deliver the news of the day peppered with light, snappy repartee and good-natured verbal sparring and banter.

"We try to provide insightful coverage of news that the mainstream media either ignore or often report insufficiently," said Humm.

"With us as with any minority press, youšll get a much more in-depth and sophisticated look at the key issues that impact gays and lesbians today," added Northrop. "We report the nuances, and we try to be fair."

Gay USA got its start as an independently produced and supported show by Lou Maletta, owner of Gay Cable Network (GCN), who pioneered coverage of the gay community and was the first in the nation to regularly provide information about the burgeoning AIDS crisis.

The program, which was seen in 20 markets around the country, including Manhattan, also provided team coverage of every Democratic and Republican national convention from a gay perspective from 1984 - 2000.

Last year, the show's production was picked up by cable entertainment producer Barry Z. Humm and Northrop are hopeful that under MNN's auspices, they will be able to broaden their guest segments, field coverage, and viewership, and eventually expand the show back to an hour.

Andy Humm has been the host of Gay USA since 1985 and co-host with Ann Northrop since 1996 and has covered almost every major gay and AIDS news story in the last 17 years.

A veteran broadcast and print reporter, Humm has anchored such public affairs programs as WNET-TV's Informed Sources, a weekly prime-time roundtable on metropolitan issues, segments of Live Wire and Thirteen Live, and the national PBS Special, Out in America, in addition to Self-Help, WBAI-FM Radio's weekly interview show with leaders of mutual aid groups. Humm is also a regular contributor to PBS' In the Life gay news magazine and writes regularly on gay issues for publications as Gay City News and the Village Voice.

Ann Northrop's broadcasting credits include five years as a national news producer for CBS-TV's Morning News and writer-producer for ABC-TV's Good Morning America. She eventually segued into AIDS education for the Hetrick-Martin Institute for Lesbian and Gay Youth, (where she worked with Humm), and freelance journalism as a columnist for QW, a New York gay magazine, and LGNY, the bi-weekly New York gay newspaper.

In 1988 she joined ACT UP/New York and became deeply involved in activism in the streets, participating in hundreds of demonstrations and getting arrested dozens of times for civil disobedience.

In addition to her duties at Gay USA, Northrop also now anchors a five-minute news spot for the national weekly news and features cable and satellite TV show, Dyke TV. She's often called upon to speak at major gay events, is regularly quoted in the New York Times and does guest appearances on numerous radio and television news shows.

About MNN

MNN is responsible for administering the public access cable television services in Manhattan. MNN's mission is to ensure the ability of Manhattan residents to have access to the medium of cable television and other community resources, to create opportunities for mutual communication, education, artistic expression and other non-commercial expressions on an open, uncensored and equitable basis.

Activities include the scheduling and transmission of public access, non- (more) commercial programming in Manhattan on four public access channels carried by Time-Warner Cable channels 34, 56, 57 and 67, and RCN channels 107, 108, 109 and 110.

Time on the channels is available to the public free of charge. MNN also offers workshops in television production for Manhattan residents and non-profit community organizations.