Florida's Mark Foley, Republican
U.S. Senate Candidate, Outed
Right-Winger Refusing to Acknowledge His Sexual Orientation
Palm Beach County Five-Term Lawmaker Furious Over Rumors
By Scott A. Giordano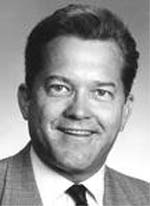 Rep. Mark Foley says discussion of his sexuality is off limits
A five-term Republican lawmaker from Florida's Palm Beach County who is also a primary candidate for the U.S. Senate has declared that questions about his sexual orientation are off limits, to the dismay of many liberal activists who say U.S. Representative Mark Foley is sending a hurtful message that there is something wrong with being gay.

Bob Kunst told GayToday he outed Foley following the theft of Election 2000 by Jeb Bush and his Republican surrogates. "I don't want anybody to think of him as gay, however, he's an evil, self-hating closeted homosexual," Kunst said.

The Oral Majority, a group that Kunst has spearheaded since the days of Anita Bryant, protested Foley's behavior (which they labeled "Foley's Follies") following George W. Bush's selection by the U.S. Supreme Court as president.

"It was Foley who wanted Florida's ballots destroyed so that the entire issue of the electoral theft could be laid to rest," Kunst said. With a twinkle, he added: "I hope he wears a conservative dress to the next Inaugural."

Foley refused to acknowledge his sexual orientation during a recent Florida news conference, saying questions about his sexuality are "revolting and unforgivable" and claiming Democratic activists are trying to smear his bid for the U.S. Senate.

"Elected officials, even those who run for the United States Senate, must have some level of privacy. My mother and father raised me and the rest of my family to believe that there are certain things we shouldn't discuss in public. Some of you may believe that it's old-fashioned, but I believe those are good ideals to live by," said Foley, 48, at the news conference.

Foley is trying to win the Senate seat currently held by Democrat Bob Graham, who is running for president. The race is being monitored closely on both sides of the political spectrum because a GOP victory could give Republicans an added edge in Congress.

Although Foley currently holds a significant fund-raising advantage over his leading rival for the Republican nomination (former U.S. Representative Bill McCollum), some Republican party strategists reportedly worry that Foley may be too "moderate" to beat McCollum, who has close ties to the conservative wing of the party.

Yet leading congressional conservatives, including House Majority Leader Tom DeLay and Majority Whip Roy Blunt, are backing Foley. Florida Governor Jeb Bush said in a statement that people need to focus on the issues and policy, not Foley's alleged sexual orientation.

Towson Fraser, communications director for the Florida Republican Party, agrees that Foley should be judged on his record and nothing else. "From our standpoint," Fraser told SLATE.com, "Congressman Foley is a valued member of our Republican family. He has a strong conservative record of supporting the president, and we're not going to get into that kind of gossip and innuendo. We're not going to allow our primary and eventually the U.S. Senate race to degenerate into a contest of nasty rumors and gossip."

No openly gay person has ever served in the U.S. Senate. Current openly gay U.S. Representative Barney Frank (D-Massachusetts) has considered a bid for the Senate if presidential contender John Kerry should be elected president and step down from the Senate.

Careful to not address the issue of Foley's sexuality, Frank told SLATE.com that, "While I do think you have right to keep things private, when you do that, it leaves an implication that there's something wrong with it."

Frank adds that Foley will be trying to join the U.S. Senate, "a body in which Rick Santorum is the third-ranking member," so his sexual orientation is not entirely irrelevant. Last month Santorum, (R-Pennsylvania) gave an interview to the Associated Press in which he likened the legality of homosexuality to that of bigamy, incest and bestiality.
While not directly addressing Rep. Foley's sexuality, openly-gay Rep. Barney Frank says to 'keep things private ... it leaves an implication that there's something wrong with it'

Speculation on Foley's sexual orientation has generated a huge Internet buzz. More than 20 Web sites have posted the initial column that outed the congressman, written by Bob Norman for the New Times, a weekly alternative newspaper in Palm Beach, Florida.

Jerome Armstrong of MyDD.Com predicted that Foley's outing will cause an "implosion" in the Florida GOP, while other Web sites questioned whether it was journalistically ethical to report Foley's sexual orientation. "This fact better explains his voting record than any of Foley's public reasons. And if his personal orientation is impacting public policy, the public has a right to know," reads "Don Quixote" of Red Alert.

The original New Times column was published May 8. It quotes several sources, including an openly gay Democrat who serves on the Wilton Manors City Council, a member of Florida's Christian Coalition and Tracy Thorne, who say it is well known that Foley is gay. Thorne, who came out while serving in the U.S. military to protest the military's anti-gay policies, told the New Times that Foley is a family friend who had brought a boyfriend to his home during a visit in the early 1990s.

"By refusing to be honest about who he is, Foley is sending a message to gay kids and his fellow Republicans that being gay is something to be ashamed of," Thorne told the paper.

While mainstream media outlets have been slow to pick up on the story, Washington, D.C.'s gay newspaper, The Washington Blade, reported on Foley's alleged sexual orientation last week.

"Generally, I just don't discuss Congressman Foley's personal life with reporters," Kirk Fordham, Foley's chief of staff, told the Blade. "When Congressman Foley travels around the state, voters are a lot more interested in his view on things like prescription drugs or Medicare reform or the threat terrorism poses to their lives. He doesn't ask about their personal lives, and they certainly aren't asking about his.

"As a conservative, Congressman Foley has been a longtime advocate for getting government out of people's lives. He has been consistent in his view that government should not interfere with private enterprise or private lives," Fordham added.

Although Foley supports AIDS-service programs and domestic-partner benefits and also supports the Employment Non-Discrimation Act, the congressman drew some criticism for his vote supporting the 1996 anti-gay Defense of Marriage Act (DoMA ) that defines marriage as being between one man and one woman in the eyes of the federal government.

Foley, a deputy whip under rabid right-winger Rep. Tom DeLay, is now campaigning across the state in many traditional, rural, Christian strongholds. His pro-gun, anti-immigrant, pro-war, and pro-George W. Bush record stands in contrast to his sharp left turn on gay rights.

The National Gay and Lesbian Victory Fund, which works to elect openly gay public officials throughout the country, is the only gay group thus far to issue a public statement regarding Foley's outing.

"It is reported that Congressman Foley … asserted his choice not to discuss his private life, which we respect. At those junctures where Congressman Foley does reference either his personal life or homosexuality, we call on him to be factual and truthful, so as to respect the decision of millions of gay Americans to live open, honest lives," said Victory Fund Executive Director Director Chuck Wolfe.

"We also call on Congressman Foley, Florida Gov. Jeb Bush and the Republican Party under his leadership to make no statements that suggest that openly gay Americans are unfit for public service or incapable of embracing conservative principles, if they so choose," he added. "We believe that voters will choose their elected representatives based on the issues, not speculation."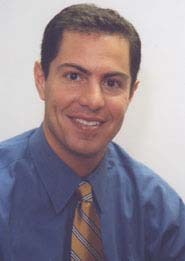 Executive Director of the Log Cabin Republicans Patrick Guerriero
Patrick Guerriero, executive director of the Log Cabin Republicans, told SLATE.com that the national gay GOP group's priority is to elect a Republican to the now Democratic-controlled Senate seat. "We're less concerned with any of the candidates' sexual orientation than where they stand on issues of fairness," Guerriero said.

This isn't the first time that people have speculated about Foley's sexual orientation, although it has never generated as much buzz. For example, several media outlets reported on Foley's alleged sexual orientation in 1996 when he voted for DoMA.

But the issue was first raised back in 1994, during the unmarried Foley's maiden run for Congress. His right-wing opponent in the Republican primary, John Anastasio, sent out mailings alleging that Foley was gay, basing the information on a clipping from a gay publication. "I felt it was a valid issue back then because here was an underground, Log Cabin Republican running in a very conservative district conveying an image that wasn't correct," Anastasio told the paper.

Anastasio's claim was repeated in the Stuart News, although the article didn't attempt to out Foley. " I like women," the congressman said at the time.