GOP Senate Majority Leader Blasts Supreme Court Decision
Senator Bill Frist Endorses Bigoted Constitutional Amendment
Would Ban All Legal Marriages for Gay and Lesbian Couples
Compiled by GayToday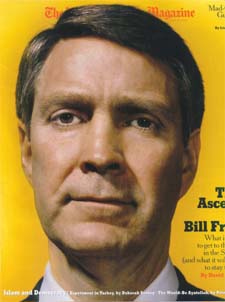 Senator Bill Frist on the May 11 cover of The New York Times Magazine
Washington, D.C.-Senate Majority Leader Bill Frist (Republican-Tennessee) who recently took over the position formerly held by the outspoken homophobic racist Mississippi Senator, Trent Lott, was denounced yesterday by the Human Rights Campaign for remarks he made Sunday on ABC's This Week, in which he criticized last week's Supreme Court decision banning state sodomy laws, saying that it could lead to increased prostitution and drug dealing.

Senator Frist went on to say that he endorsed an amendment to the U.S. Constitution to ban legal marriage for gay and lesbian couples in long-term, committed relationships. The U.S. Constitution has never been used to restrict rights or single out a group of Americans for discrimination.

"The Supreme Court, in its wisdom, has affirmed that the Constitution provides equal protection under the law to gay and lesbian people by protecting the privacy of all Americans from government intrusion," said HRC Political Director Winnie Stachelberg.

"Senator Frist's remarks echo Senator Santorum's discriminatory and disdainful statements that outraged so many Americans earlier this spring. If Senator Frist had read the opinion in the Lawrence case, he would know that this case is first and foremost about affirming every American's right to privacy and equal protection under the law. It would be wrong to write discrimination into the Constitution and erase the right to privacy."

Frist's comments about prostitution and drug abuse and the impact of the Supreme Court ruling in the Lawrence v. Texas case were misleading. In his majority opinion in Lawrence v. Texas, Justice Anthony Kennedy specifically addressed the issues raised by Frist.

"[This case] does not involve persons who might be injured or coerced or who are situated in relationships where consent might not easily be refused. It does not involve public conduct or prostitution," wrote Kennedy. "The petitioners are entitled to respect for their private lives. The State cannot demean their existence or control their destiny by making their private sexual conduct a crime."

Speaking on the subject of gay marriage and a proposed constitutional amendment prohibiting gay marriage, Frist went on to say, "I very much feel that marriage is a sacrament, and that sacrament should extend and can extend to that legal entity of a union between -- what is traditionally in our Western values has been defined -- as between a man and a woman. So I would support the amendment."

"Entering into a life-long relationship and raising a family is an integral part of the American dream. In supporting the deeply discriminatory anti-marriage amendment, Senator Frist is essentially saying that he believes that some loving, committed couples and their families are not worthy of the same protections and recognition that most Americans take for granted," said Stachelberg. "Senator Frist is marginalizing an entire group of American families, and that is wrong."

A recent study of the 2000 Census conducted by the Urban Institute showed that, statistically speaking, same-sex couples in committed relationships were almost identical to heterosexual married couples in terms of the number of children being raised in child-rearing households, income level and property value.

"The biggest difference between same-sex couples and other American couples is the number of rights and protections that gay couples and their children are denied," said Stachelberg. "We sincerely hope that Senator Frist will rethink this unwise policy for our country and support every American's basic right to equality."

A Gallup Poll released in May showed that six in 10 Americans support granting same-sex couples the legal rights of marriage, including health care and Social Security survivor benefits.

The same study also showed that the country is evenly split, 49 percent in favor and 49 percent against, allowing gay and lesbian couples to enter into legally recognized unions. Support for civil marriage for same-sex couples - which would bestow legal rights and responsibilities without affecting religious doctrine - in the United States has grown steadily over the last several years.

"This week, the country is going to celebrate Independence Day - the anniversary of the day that our founders declared that 'all men are created equal.' By that standard, it makes perfect sense that every couple in this country would have access to the same rights and protections.

"This debate is about valuing and protecting each and every American couple and family. It is shocking that Senator Frist, or any other patriotic American, would support an effort to use the Constitution - a document designed to protect the rights of all Americans - to single out a group of Americans for discriminatory treatment," said Stachelberg.