Thai AIDS Activists Win Round Against Bristol-Myers Squibb

Government of Thailand may now Start Producing Generic ddI

Court: Pharmaceutical Monopoly is Charging Exorbitant Prices



Compiled by GayToday
IGLHRC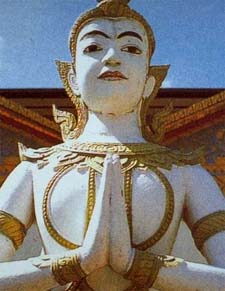 Bangkok, Thailand--Thai people living with HIV/AIDS have won a precedent-setting treatment access victory in Thailand's Central Intellectual Property and International Trade Court (CIPITC).

The court ruled in favor of the plaintiffs, two Thais living with HIV/AIDS and the AIDS Access Foundation, against the defense of the Bristol-Myers Squibb Company (BMS), and the Thai Department of Intellectual Property (DIP).

The plaintiffs claimed that the patent registration of the HIV/AIDS medication, ddI (tablet form, patent #7600), held by BMS was invalid.

Important findings of the court include:

1) Individuals, not just commercial interests, had the right to contest an issue in the court on the grounds that health interests supersede patent protection.

The decision referred to the Doha Declaration, which upholds that pharmaceuticals are different from other products, as they are vital to public health, and can therefore be exempted from certain trade restrictions;

2) BMS illegally amended its patent application three years after its original submission, in order to claim a wider monopoly than the patent description justified. BMS was ordered to revert its practices to be within the parameters of its original claim.

On October 9, 2002, another group of plaintiffs filed a case with CIPITC, asking the court to revoke the BMS patent on ddI tablets in Thailand. Plaintiffs include three people living with HIV/AIDS and the Foundation for Consumers; activists hope they will be joined by the Government Pharmaceutical Organization (GPO). In this case, plaintiffs have to show that the BMS patent does not show significant innovation, a fundamental criteria for the granting of a patent.

Of 60 million inhabitants, about 1 million people are living with HIV/AIDS in Thailand. Only several thousand of them have access to treatment. In its five years of existence, the Thai Network of People Living with HIV/AIDS (TNP+) and its allies have campaigned for expanded and improved treatment access and related services, leading in some cases to significant victories.

In 1998, treatment activists demanded that the Thai government exercise its right to use a compulsory license by producing generic ddI tablets, a critical first regimen AIDS drug, in order to address its AIDS treatment crisis.

The government refused, citing fear of United States government retaliation through trade sanctions. Instead, the Thai GPO produced ddI in powder form. This much less tolerable formulation caused increased side effects and was less easy to take.

Activists continued to assert that the BMS patent on its buffered ddI in Thailand was not an innovation and therefore should not be protected. According to law, only true innovations are eligible for patent protection. BMS was originally granted an exclusive marketing license for ddI by the U.S. government-funded National Institutes of Health (NIH), which conducted the research leading to ddI's invention.

BMS then manufactured a ddI tablet combining the drug with a buffer (a common practise among pharmacists where, for example, antacid would be added to ddI to help absorption in the stomach), and received patent # 7600 from the Thai Department of Intellectual Property for what they claimed to be an "innovation".

Thai activists have seen this as a blatant act of deception and greed - patented ddI tablets cost twice as much as generic ones. In May 2000 they set the process in motion to make their legal case against BMS and the DIP.
---
Action Alert: Sample Letter and Thai Addresses

Honorable Minister,

I write you to express my solidarity with the Thai Network of People Living with HIV/AIDS (TNP+), and ask that you take urgent action to help prevent the unnecessary death of tens of thousands of Thai people living with HIV/AIDS each year. On October 1, 2002, Thai people living with HIV/AIDS (PLWHA) and their allies made history with their victorious court case against Bristol-Myers Squibb's (BMS) violation of the terms of their patent claim on ddI tablets. When the court ruled in favor of the plaintiffs, two PLWHAs and the AIDS Access Foundation, it decided to prioritize the right to health and access to medicines over invalid corporate patent monopolies. We are asking you to support people living with HIV/AIDS and take principled action now to give the court decision true meaning.

I urge you to:

* Immediately allow, through the court-sanctioned "temporary protection," the generic manufacture of ddI outside the range of 5mg -100mg by the state owned generic manufacturer, the GPO. Dr. Thongchai stated the GPO is "ready" to produce the tablets. Generic production would reduce cost to consumer by 50%.

* Immediately send an order to the Director of the Government Pharmaceutical Organization (GPO), Dr. Thongchai Tavichachart, to empower him to join the second case against BMS in the Central Intellectual Property and International Trade Court (CIPITC) as a plaintiff. As you must know, people with HIV/AIDS do not have time to wait. In Thailand, 150 people die every day from AIDS.

Government is obligated to respect, protect and fulfill the human rights of its citizens. For people living with HIV/AIDS, this includes the right to life, to health, and to share in scientific advancement and its benefits.

Thank you in advance for your action on behalf of people living with HIV/AIDS, your leadership in the area of access to treatment in Thailand, and for recognizing the potentially life-saving implications of your decisions; not only for Thai PLWHA but also for the 39 million other people living with HIV/AIDS around the world.

Yours sincerely,
Your Name and Organization (if any)

Please send a letter to:

Ms. Sudarat Keyuraphan
Minister of Public Health
Ministry of Public Health
Tiwanond Road, Nonthaburi 11000

THAILAND
Phone: +66-2-590-2057
Fax: +66-2-590-2028
Email: sudarat@sudarat.com

Please send a copy of your letter to:

Dr. Thongchai Tavichachart, Director
Government Pharmaceutical Organization (GPO)
Email: thavicha@health.moph.go.th

And send a copy to the following activists:

Ms. Onanong Bunjumnong, Access Campaign Coordinator Medecins Sans Frontieres-Belgium, Thailand (MSF-B)
Phone: +661-838-4233
Email: msfdrugs@asianet.co.th

Mr. Kamon Uppakaew, Chairman
Thai Network for People Living with HIV/AIDS (TNP+)
Phone: +662-376-0175/6
Email: tnpth@loxinfo.co.th

Mr. Nimit Tienudom, Director
AIDS Access Foundation
Phone: +661-910-4884
Email: mit@aidsaccess.com