Queering Creole Spiritual Traditions: Lesbian, Gay, Bisexual, and Transgender Participation in African Inspired Traditions in the Americas by Randy P. Conner and David Hatfield Sparks; Harrington Park Press; 390 pages; $29.95.
---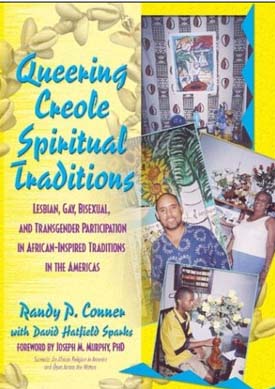 When the peoples of West Africa were taken across the Atlantic against their will - victims of what Will and Ariel Durant called "probably the most criminal action in history" - they took with them their rich spiritual traditions. Since they were expected to conform to the faith of their new masters, these reluctant immigrants outwardly converted to Christianity, while at the same time continuing to practice their old traditions "in the closet." Til this day many African-Americans (North and South) continue to worship the gods of their ancestors, albeit in western drag. Many of these traditions - including Cuba's Santería and Brazil's Candomblé - are derived from the Yorùbá peoples of West Africa while others, like Haiti's Vodou, derive from other African spiritual traditions.

In Queering Creole Spiritual Traditions: Lesbian, Gay, Bisexual, and Transgender Participation in African Inspired Traditions in the Americas, scholars/life partners, Randy P. Conner and David Hatfield Sparks (Cassell's Encyclopedia of Queer Myth, Symbol, and Spirit).explore and celebrate queer contributions to Yorùbá and Vodou. GLBT involvement in African derived faiths go beyond queer people of African descent. In Cuba, according to author Ian Lumsden, "Santería [is] tolerant of gender deviation....[and] Santero feasts are reportedly very popular with homosexuals." According to Regla, an African-Cuban woman interviewed by Conner and Sparks, "although gay men still suffered oppression in Cuba, they were more likely to be protected from it if they belonged to Lucumí houses."

While there is plenty of bigotry among the practitioners of Yorùbá, the faith's androgynous orishás (deities) and colorful ritual no doubt attract many sex- and gender-variant people. The Lucumí/Santería tradition has many gay oriatés (priests) as well as "drag practitioners [who] are especially skilled in the divinatory and magical arts." Many gay and bisexual Cubans with HIV pray for healing to the orishá Babaluayé. Meanwhile, in Brazil, "gay men, androgynous men, drag queens, and transgender women/male-to-female transsexuals frequently share a spiritual bond with Pomba Gira," a Candomblé deity.

Though my family and I were never santeros, as a Cuban I had some fleeting acquaintance with those who are, both gay and straight. And as both Cuban and queer I am certainly interested in a religious tradition that has contributed so much to both my ethnic and sexual heritage. But you don't have to be Cuban - or Brazilian, Haitian, Puerto Rican or Creole - to appreciate and enjoy Queering Creole Spiritual Traditions. Conner and Sparks conducted enormous research, including several visits to Cuba, to uncover Creoles of the Rainbow. Many of these practitioners are profiled in "Snapshots," a vivid chapter that goes beyond scholarship to show Yorùbá and Vodou as the vital, living faiths that they are.

Though the religious influence of the Creole spiritual tradition is limited to its practitioners, its cultural and artistic influence is widespread. To give an example, the music of the Americas would be much poorer without the influence of African immigrants and their descendants, and of the faiths that inspired them. In "To Make the Spirit Manifest" Conner and Sparks profiles the writers, musicians and visual artists who were inspired by the African spiritual traditions, whether or not they themselves believe in them. Among the gay geniuses featured in this chapter are writers Lydia Cabrera and Severo Sarduy, musicians/ composers Ernesto Lecuona and Gilberto Gil, and visual artists Juan Boza and Jean-Michel Basquiat.

Many of us who are gay, lesbian, bisexual or transgendered grew up in religious bodies that condemned and rejected us. Thus it is no surprise that many of us left the faith of our parents to find our own spiritual paths. In the African-American spiritual traditions, many of our people found what they were looking for. Queering Creole Spiritual Traditions is a fascinating road map to this spiritual path, told from a decidedly queer perspective.

Lambda Literary Awards: On June 3rd the Lambda Literary Foundation honored our community's literary best at the 16th Annual Lambda Literary Awards. Among the big winners were Christopher Bram, who received the Gay Men's Fiction Award for Lives of the Circus Animals, and Nina Revoyr, who won the Lesbian Fiction Award for Southland. Other major winners were Naked in the Promised Land by Lillian Faderman (Memoir/ Autobiography), Beautiful Shadow: A Life of Patricia Highsmith by Andrew Wilson (Biography), and Time on Two Crosses: The Collected Writings of Bayard Rustin, edited by Devon W. Carbado and Donald Weise (LGBT Studies). Terry Castle won the Editor's Choice Award for her Literature of Lesbianism and E. Lynn Harris received the Bridge Builder Award for his memoir, What Becomes of the Brokenhearted.
---
My Favorite Book: is brought to us by attorney Stephen Jerome: "Of all the books I have ever read in my life, the book I enjoyed the most, and which had the most impact on me, was The Life and Times of Cleopatra, Queen of Egypt, by Arthur Weigall. (The book was first published in 1924. Weigall was a British Egyptologist and Chief Inspector of Egyptian Antiquities in the 1920's.) Many gay men have had fascinations for great women. (e.g., Judy Garland, Maria Callas, Barbra Streisand, etc.) My greatest woman of all time was Cleopatra. For decades, this was the authoritative book about Cleopatra. It revealed in great detail the true woman behind the legend, her life, her struggles and ambitions and her tragic ending. One of the most brilliant and dynamic women of all time, Cleopatra's adult life was dedicated to her nation and to protecting it from Rome and Roman domination. This book brings this fascinating woman to life in a way no other book I have ever read has done."

If you, Dear Reader, have a favorite book, e-mail me the title and the author; a sentence or two telling me why you like that book so much; and a name that I can use to jessemonteagudo@aol.com . Subject: "Book Nook Favorite Book."
---

Jesse Monteagudo is a freelance writer and gay activist who lives in South Florida. He receives e-mail at jessemonteagudo@aol.com .