The Latest in Gay Comix



By Jesse Monteagudo
The Book Nook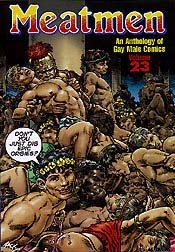 The most successful gay comic book series of all time is MEATMEN, edited by Winston Leyland for Leyland Publications. Begun in 1992, the series now has 25 volumes. What began as a balance between humorous and erotic comix soon began to tilt towards the erotic; so that a typical MEATMEN volume today consists mostly of explicit, gayrotic comic stories with plenty of male nudity.

Jack Nichols, reviewing an earlier volume for GayToday, called the series "explicit erotic fantasy adventures packed with greater arousal power than any photographs in my memory."

Though some MEATMEN volumes are sadly out of print, volumes 2, 6, 10 to 12 and 14 to 25 of this series are still available. Since the cost of the entire series would be beyond the means of the average reader, I asked Winston Leyland which 4-6 volumes he would recommend to a new reader who's starting to collect MEATMEN but cannot afford to buy every one that's available.

"If a reader asked me which few volumes I would recommend as a start, I would say volumes 2, 14, 18, 22, 24 [and] 25," Leyland says. "I do give a discount, incidentally, if a reader wants to buy the entire set available from me."

Though individual MEATMEN volumes are $17.95 each if purchased at a bookstore, they can be ordered directly from the publisher for $19.95 postpaid. Send a check or money order to Leyland Publications, P.O. Box 410690, San Francisco, CA 94141.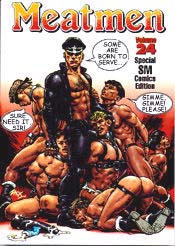 While each MEATMEN comic stands on its own, several artists and characters have become regulars, no doubt due to popular demand. For example, the last four volumes (22-25) featured covers and stories by Zack, whose tales of innocent(?) boy-boys in heat are perennial favorites.

But doubtlessly the most popular MEATMEN character of all is John Blackburn's Coley, a blond, buff, bisexual, "19-year old voodoo sexgod". Each of the last few volumes of MEATMEN featured a prime Coley story, which takes our hero through space and time and, of course, to hot new sexadventures.

One of the most popular issues of MEATMEN was Volume 18, a special volume of SM and leathersex comics. The recently-published MEATMEN 24 is this series's second "Special SM Comics Edition". Like the ones in No. 18, the stories in No. 24 deal with SM and leathersex, in very explicit detail.

The highlights of this volume, in addition to the Zack story ("Slaves To Lust") and the Coley story ("Baitbucket"), are Belasco's "Boo: Pleasure 'n Pain", Stepan Zubinski's "In the Kingdom of the Snake God" and Osze's"Full Circle"; not to mention fourteen one-panel comic bits by the always dependable Gerard Donelan.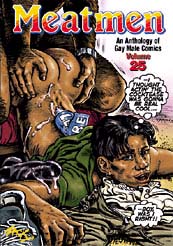 MEATMEN 25, the latest in the series, is more of the same, which is OK by me. Once again we have a Zack story ("Teasy Meat") and a Coley story ("Stagecoach"). We also have a Belasco story ("Down n' Dirty") and 16 cartoons by Donelan. Three of the features in MEATMEN 25 are science fiction-oriented: the fascinating "Newcomer" by Stepan Zubinski; the so-so "Before Space and Time" by Jeff Jacklin; and my personal favorite: "Camili-Cat and the Djinns" by Patrick Fillion.
Fillion, a young French-Canadian artist who now lives in Vancouver, has worked on a series of comic zines in Canada (and in French) for years before he finally made it in the Anglo-American world. Camili-Cat, Fillion's favorite character (and mine), is a lean, mean and oversexed "felinoid" - and an insatiable bottom - who gets it on with assorted aliens and outworldly characters during the course of his sci-fi adventures. We hope that Leyland brings back both Fillion and his Camili-Cat in the next volume of MEATMEN.
---

Homo-Hero's Big Book of Fun and Adventure is an adult activity book by Michael Troy, published by Green Candy Press ($11.95). Gay - and frequently naked - super heroes like the Homo-Hero, Cock Swinger, Cosmic Cutie, Flamer and Jungle Booty match wits and strength against dastardly villains like Gassy Mink and Dr. Camel-Toe. Homo-Hero's Big Book of Fun and Adventure has 64 fun-filled pages of homoerotic fun; with coloring pages, brainteasers, connect-the-dots and word puzzles. It is the perfect gift for the superhero in your life.


---
Jesse Monteagudo is a freelance writer who began his gay book collection in 1972, when he purchased a paperback copy of The Gay Crusaders. He can be reached at jessemonteagudo@aol.com