Latina/o Unity Celebration will Mark LLEGÓ's 15th Year
Compiled by GayToday
Washington, D.C.-- On the heels of victory over an anti-gay ballot initiative, Miami residents will welcome hundreds of Latina/o sexual-minority and transgender advocates, service providers, educators, community members, and supporters in October for LLEGÓ's biennial Encuentro ("Gathering").

The Washington, D.C.-based National Latina/o Lesbian, Gay, Bisexual and Transgender Organization helped defeat a referendum this month that would have yanked antidiscrimination protection away from gays and lesbians in Miami-Dade County, Fla., making the organization's conference theme "Celebrating Unity" all the more appropriate.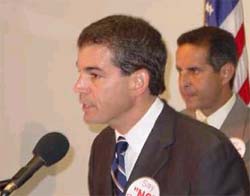 Miami-Dade Mayor Alex Penelas will speak at the LLEGÓ's biennial Encuentro, to be held this October in Penelas' county

LLEGÓ has something else to celebrate too: its quinceañara (15th anniversary). "We are looking forward to a joyous and educational five days in Miami," said LLEGÓ Executive Director Martín Ornelas-Quintero.

The ninth international conference, to be held Oct. 10-14 at the Radisson Mart Plaza Hotel and Convention Center, is expected to draw about 1,500 attendees from throughout the U.S., Puerto Rico, and Latin America.

Health is a major focus, with sessions on HIV prevention among migrant populations, bisexual health and identity, transgender wellness, and global AIDS legislation. Gay parenting is another focus -- and a topical one -- with sessions on family rights, support and safety for LGBT youth, and parents as activists.

Other conference topics include human rights in Latin America, domestic violence among women, building a national bisexual movement, and Latina/o LGBTs in the media. "Our Encuentro offers a variety of programs of interest to a wide range of people," said Ornelas-Quintero.

Among the speakers are Miami mayor Alex Penelas. A Cuban-American, Penelas was a strong supporter of the recent campaign to retain gay rights in Miami-Dade County. Other speakers include Cuban-born, lesbian National Organization of Women vice president Olga Vives, and Alejandra Sarda from the International Gay and Lesbian Human Rights Commission's Latin America/Caribbean program.

Awards will be presented to nine LGBT Latina/o community leaders and activists. Social activities, including a Latina/o cultural festival and a gala dance, are open to the public.

Preregistration is available online at http://www.llego.org. Attendees can also register at the conference.